If you are in the market for a new set of weight, perhaps one of your first decisions will be whether or not to invest in a true Olympic weight set. But sorting through the many options available take time away from training and how do you know what your choice will hold up to your training program. Your first decision may be based on just what you need to pay, but before you make your entire decision solely on price, you might want to learn more about just what to look for in a set before you buy.
This is usually defined by a set that is either 300 pounds or 400 pounds and comes with a 7 foot, 45 pound bar, though you will find some sets that slightly vary from this. If this is the kind of set that you are looking for, then you might be surprised to see that there are simply so many different options out there right now.We have review many weight set and have narrowed the best of breed to the following.
Our Top Picks?
We have narrowed our top sets to these 3 based on:
Best Competition Grade Set: Eleiko WL Competition: These are the premium competition grade training set period.
Best Balance of quality and price: Rogue HG Set: The best durability, price and quality training set.
Best Value at a lower price: Troy VTX Set: The Best quality when price is a major concern.
Parameters
Eleiko WL Competition
Rogue Bars & HG Bumpers
Troy VTX Bumpers
Bumper Image
Bar weight
Men 20kg
Women 15kg
Men 20kg
Women 15kg
Men 20kg
Women 15kg
Bar Length
7'
7'
7'
Bar Composition
Bright Zinc Finish
Black Zinc finish
Steel
Bumper Plates
Packaged 165kg
pairs of 45, 35, 25, and 10
pairs of 45lb, 35 lb, 25lb, 10lb, 2.5lb and 4 x 5lb
Bumper Diameter
450mm
450mm
450mm
Bumper Material
Rubber
Rubber
Rubber or Metal
Weight marking
kg
lbs and kg
lbs
Bumpers Color
Custom Multi-color
Black (Standard)
Custom Multi-color
Black (Standard)
Custom Multi-color
Bumper Odor
low
low
Medium
Total Weight
165KG (364lb)
275lb
300lb
Warranty
5 year warranty
3 year warranty
1 year warranty
Our Ranking
Detail Review
Read Review
Read Review
Read Review
What Is An Olympic Weight Set?
The official regulated requirement set for by the International Weightlifting Federation (IWF), which is the governing body for weightlifting, breaks down a weight set to two parts. The seven foot long Olympic bar that is 45 pounds (20 kg) for men or 15kg for women both with a two inch sleeves.
NOTE: If you find a bar that is shorter or lighter, then it is NOT Olympic grade and should be classified as a standard bar. These Standard bars often vary in length, weight and composition which is important to consider if you are serious about getting a quality set and enhancing your training. The other critical component are quality plates otherwise know as Bumpers or discs.
A good Olympic Set represents a challenge that many have failed at, but a chosen few have conquered:
What Makes a Quality Olympic Bar?
Generally speaking, Olympic bars are designed to hold a lot more weight than standard bars. The average standard bar that would be used in a home gym may only carry approximately 100-120 pounds. However, because an Olympic bar is heavier and comes in at 45 pounds, it is often able to hold 800 pounds or more without bending. There are some Olympic bars like the Pendlay NexGen HD Bar, rated to support 3,500 pounds of pressure, which is obviously high quality and an a must have for your home gym if you can afford it.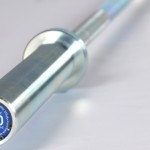 A normal Olympic bar has a two inch sleeve that holds the weight in place on one end and usually includes a spring collar to keep the weight in place on the other ends, though some people prefer a different type of collar instead. Olympic barbells also have rotating sleeve on the end so that the plates can spin freely without creating undue stress on your wrist, which is particularly important if you are lifting a lot of weight.
The handle of the bar normally consist of knurl points that have distinct beginning and end points. Knurling is the part of the bar that you place your hands on and allows you to get a better grip on the bar. Quality bars like the Rouge Bar have two knurling points designed perfect hand placement. Read our buyers guide for additional details
What Kind Of Plates Are included in An Olympic Set?
There are a variety of different Olympic weight sets, and the kind you purchase will likely depend on how much weight you plan on lifting and how delicate you are with the weight. You can buy cast-iron weights which would be the basic standard, but many people now prefer rubber coated weights since they are easier on your flooring and easier on your hands as you are moving them.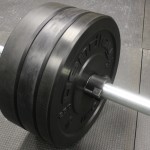 Another consideration when you are purchasing a set is the type of handles that the weight has. Traditionally, Olympic weight sets do not contain weights that have built-in handles, though that is changing of late. Simply having cutouts within each weight can make moving them a lot easier, however at this level this isn't traditionally a must have.
There are a number of different configurations as far as overall weight that you can purchase at one time, though most Olympic set tend to be 250 – 400 pounds to start. These contain weights ranging from 45 pounds on the high-end to five pounds or 2.5 pounds on the low-end. A typical base set includes:
2 x 45lb Plate
2 x 35lb Plates
2 x 25lb Plate
Read our buyers guide for additional details
How Much Should You Have To Pay?
The amount of money you should end up paying for your Olympic set will depend on a number of different aspects. These include:
First of all, if you choose to buy one of these at your local sporting goods store, then you could expect to pay quite a lot. However, purchasing these online can save you a lot of money and actually offer you a variety of options that you might not be locally. For instance, you can find weight in different colors, weights that are rubber coated, and weights that are particularly easy to handle. There are also different overall weights available such as 500 pounds, 1000 pounds, or more. Quality sets should be $500 and over, so use this as an indication of the quality.
Where Can You Buy the Best Olympic Set?
If you have been looking for the highest quality Olympic set for your home gym or for a commercial setting, then all of these considerations should be kept in mind, not least of which is that you want the highest quality set possible. Ideally, this is something that should last you for the rest of your life, and by choosing weight that are properly made and designed for your particular purpose, you will end up being a lot happier with your purchase.
Q: What is Olympic Weightlifting?
A:
Olympic weightlifting consists of two fundamental lifts; the "clean and jerk" and the "Snatch". In the "clean and jerk" the lifter takes the set from the floor and lifts it to the shoulders, hence, (performing the clean), and then lift the bar from the shoulders overhead (performing the jerk). In the "snatch", the lifter takes the olympic set from the floor and raises it overhead in one fluid continuous motion.
Q: I don't want to compete as a Weightlifter, so should I learn the Olympic lifts?
A: The skills you will learn from performing Olympic lifts will transfer to all other sporting activities. You will learn a mental focus like no other, while your overall strength and power grow by leaps and bounds. At the very least you will be performing a challenging workout that will deliver results.
Q: What the difference between Olympic-style weightlifting and power lifting or body building?
A: Olympic weightlifters compete in the snatch and clean & jerk formations. These are the foundation exercisers/lifts we perform. Power lifting competitions can range from dead lift, squats to bench presses (You will often see power lifter training by pulling  tractor trailer, tires and other kinds of equipment). Bodybuilders tend to focus on defining muscles and improve the definition of muscle groups. This is a length process which often takes over years before you can compete at a serious level .
Q: Why do Olympic weightlifters need special shoes?
A: A quality weightlifting shoe is normally defined by a unique raised heel and the midsole consist of either, leather, plastic, wood, or a molded composite material, all fitted to a thin rubber or foam outsole for grip. Heel height is variable between brands and models of footwear, and can range in height from 3/4″ to 1 1/4″. Every sport has it unique gear, and Olympic weightlifting is no different. You shoe will help due injury and is design to help increase stability (which is important when you have 300lb over your head). If you are interested in purchasing weightlifting shoes, first read our weightlifting shoe buyers guide and then check out our reviews of some of the top shoes in the industry.
Q: Why do weight sets cost so much?
A: A quality set is an investment in yourself. The equipment that you purchase (if it is quality) will mostly be a one-time purchase, and more than likely will outlast your lifetime. Weight Set materials are built tough and normally holds it resale value if you ever decide its retire time. For serious athletes this is an easy decision.