Adidas is a popular company that is known for their AdiStar weightlifting shoes. These shoes have been on the market since 2008 and have gained a lot of loyal customers. However, they now have changed their construction completely and released the Adidas AdiPower as their new model.
The AdiPower adds some new features and solves some of the old that were consistent with the AdiStar's. This review will take a look at the AdiPower and see how they match up with other shoes.

The Look of the Adidas AdiPower Weightlifting Shoe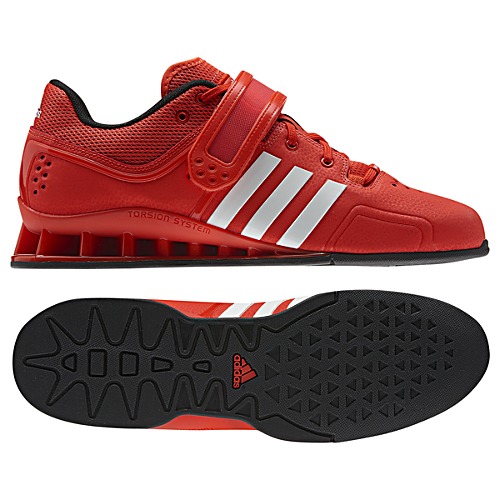 I should preface this entire article by saying that I love the look of Adidas shoes. I don't know if it has something to do with my days of playing Run DMC on repeat on my tape deck, or the fact that Adidas always seems to come out with very unique looking and colored shoes, which I love.
While some shoe companies try to add color schemes to their shoes and fail miserably when doing so, Adidas seems to continually nail this right on. This is the same to be said with the Adidas AdiPower. I feel as if the current red and black setup looks electric and empowering without being tacky or distracting.
Performance and Design of the Adidas AdiPower
Okay, with that out of the way, how do the shoes perform? And to no surprise for me, the answer is, quite well. The Adidas AdiPower has changed to a synthetic material, from the leather material that was found on the AdiStar. I feel like this makes the shoe a bit lighter (we confirm this by weighting it against the  romaleos 2 and it was lighter). It also allows my feet to breath a bit easier. Also an upgrade, the inside of the AdiPower, including the tongue, is now similar to a sock lining. Many people were quite frustrated with how poorly the tongue on the AdiStar was designed, so this new feature is greatly appreciated.
One thing to note about the AdiStar is how durable the shoe was. I had my pair for more than two years and with regular use, they were still durable and fit my feet perfectly. So far, the Adidas AdiPower is following that exact pattern. If these shoes can keep up their durability and the way they fit my feet, plus with the new improvements on the tongue and material, I can see this becoming my go-to shoe.
Our TIP: Go with .5 to 1 full size smaller. Follow our buyers guide
The word on the Street…
 seriously do not know how did I lift before I had these shoes and why in the world did I wait such a long time before I bought proper weight lifting shoes?!?!?  – adidas.com 
Got these in last week, they are my first pair of weightlifting shoes and the difference for low bar and front squats is like night and day. I used to squat in Chucks and in NB Minimus. Sizing tip…I have a men's 10 in the Minimus and a 9 in Chucks. I got a 9.5 in these and they fit perfect! I would suggest going to a store and trying on a pair of Adidas running shoes and go with that size as Adidas sizing is pretty universal. – roguefitness.com 
I do not do super heavy squats. Max around 315lbs to preserve my back but I will occasionally leg press 800+. Most days I will do 500+ reps on the leg press machine and the bottoms of my feat and ankles just ache. These shoes are amazing. The support is perfect and the pain were gone instantly.  – adidas.com 
Before start CF, i do OLY-Lifting professional. I try all weightlifting shoes on the market, they are nothing compared to the adipowers… – roguefitness.com 
I have been weightlifting for a little over a year and decided it was time to step up to a boy shoe. I started off in a pair of Adidas Powerlift trainers, and they were nice but I knew there was something more to be had. I told myself that once I hit a 200 pound snatch that I'd treat myself to a new pair of shoes. Thankfully that time came almost at the same time as my Tax return. Enter the Adipower's. They are fantastic, I am currently getting in 370 reps per week of snatches/cleans and jerks/squats/pulls in them and they are super comfortable. They took me a night to break in, and now it feels like I've been wearing them for a year. Highly recommended. – adidas.com 
Final Assessment
Our Rating:

 out of 5 stars.
Pros:
Took an already good shoe, the AdiStar, and made it even better.
As stable and durable as the first time I put them on.
The Adidas AdiPower allows for more ventilation than the AdiStar, which was one of my biggest gripes about the previous line.
I love the color scheme. Depending on how much emphasis you put on this, this is a beautifully designed shoe.
Cons:
Much like many of Adidas products, the Adidas AdiPower are priced on the higher end of weightlifting shoes.
Overall:
We only have one con for the Adidas AdiPower line?! Wow, I guess I didn't realize how much I loved this shoe till I wrote it out. For me, I am used to spending my well-earned money on shoes. So to drop the coin on the AdiPower was not a problem. And to ease the minds of those who may be looking at the price as a bit far fetched for a pair of shoes you only wear for a few hours a day, I can tell you that they will last your longer and be more comfortable than many other shoes that you may consider purchasing. Think of it as an investment that you are putting towards making yourself a better you. It's truly worth it.
Where Can you grab a pair the Adidas AdiPower?
In our next review we look at the Risto Weightlifting Shoe. Thanks for visiting www.olympicweightsetreview.com, if you liked this article please use our social buttons to give us the thumbs up.

Related Post