For many years, my grandfather was a huge fan of Asics Weightlifting Shoes. Whenever we'd go shopping and I'd pick out a really expensive brand, he'd always grab his usual pair of Asics and we'd be on our way. He always told me, "If it's not broke, don't fix it" and apparently the Asics weren't broke for him and he enjoyed wearing them for his daily walks.
Asics Weightlifting Shoes Performance and Design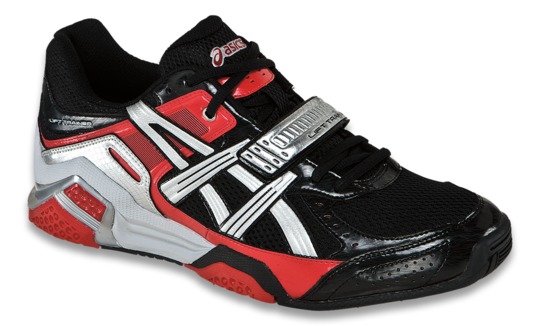 Fast-forward many years and I was quite surprised when a pair of Asics Lift Trainers landed on my doorstep for testing. Even with my grandfather's good vibes about the shoes, I don't think I would've seen myself going out and purchasing a pair of Asics over some of the other big name brands available. But that doesn't mean I wasn't stoked to see them come to me and I was prepared to give these bad boys a go in the gym the next day.The material of the Lift Trainer is quite good. It has a rubber sole and the main part of the shoe is made of a synthetic and mesh material.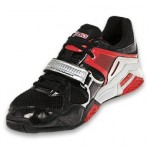 There is also one strap across the top, which gives my foot a bit more security when I jump up and down. This material seems to be great for allowing my foot enough room to breathe and not get swamp-foot. I can't stand constricting shoes that I feel like I am sloshing around in my own sweat after 20-minutes of warming up. Luckily, I didn't notice any of that with these. Aside from how the shoe feels, it also is important that I also like how the shoe looks. It comes in two different colors. One color-set is a navy and silver and the other is a red, silver and black combination.
My high school colors were red and black, so I was pleased to see that this was the color I'd get to try out. Sure, I'm a bit of a snob when it comes to having other big name logos on my shoes and I don't think Asics turns any heads; but considering this was my first pair from the brand, I was happy with how they looked.
Another benefit of the shoe is its price. It certainly wont be one of the least expensive options you can go for, but it also wont be a complete wallet-buster of an investment. And from what I've experienced thus far, Asics are worth the $100 (roughly) you will spend for them.
Final Breakdown
Our Rating: 3.0 out of 5 stars.
Pros:
Solid quality that looks like it could last for a long time.
Comfortable shoe that breaths well. Eliminates swamp-foot.
Multiple colors to choose from.
Cons:
Good (not the best) for weight training.
I've heard friends say that Asics can fit weird. A 12 will work great for some feet, but feel completely off for others. Definitely try it on before you buy.
Overall Thought:
Asics makes a surprisingly great shoe. All those years that my grandfather told me he would never wear anything but Asics, I now know why. These shoes are stable and are great for lifting in. I'm not a huge fan of how they feel when doing cardio, so I don't know if I could see myself wearing them regularly.
However, considering I never considered Asics before, especially not for a weightlifting shoe, it is great to know that I now have another option when I want to switch out of my more regular shoes. And the fact that I have a color set that matches some of my old gear from when I was younger is another added bonus. I recommend the Asics Weightlifting Shoes, but only if you are budget conscious, other wise grab some of the high brands (Pendlay or Rogue).
Where can you grab a pair?
In our next post we look at the Rogue Hi-Temp Bumper Set.Thanks for visiting www.olympicweightsetreview.com, if you liked this article please use our social buttons to give us the thumbs up.

Related Post