If you are looking to save space or money while adding a bench to your gym, the Body-Solid Powerline Flat/Incline/Decline Folding Bench is a reliable option for you to consider. This is a multi-purpose bench that provides athletes with the opportunity to perform a variety of workouts, without taking up a ton of space in your gym.
This bench will likely be ideal for beginner athletes or smaller gyms, but it'll certainly provide you with the opportunity to do all the exercises you could want. Here is a further review of what we thought about the Powerline Folding Bench.
Design and Features on this bench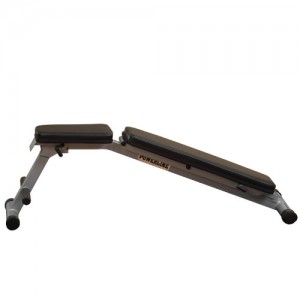 Before gyms were filled with scientific machines and novelty items, there were simply dumbbell racks, squat machines, bench presses and adjustable racks. In reality these are probably all you need to be a powerful athlete and train you're hardest.
This is exactly what you'll get from the Powerline Folding Bench. It's nothing fancy and it doesn't stand out or have much of a 'wow' factor. But it is sturdy and reliable, which should be the two most important elements of a bench. The black padding also matches well with the silver frame, as well as the rubber that is along the feet of the bench.
Adjustment Angels
When it comes to the features of the bench, there are seven adjustable positions that make it easy to do a variety of workouts that can be done. Decline and incline press, flat bench, and shoulder press are all possible with different adjustments. Furthermore, the additional angles offer more options for targeting other muscle groups in your upper body. You can also position the bench in different angles, which makes it easier to do exercises like curls or triceps extensions.
Pre-Built
Another added benefit is that this unit comes pre-assembled in the box. All you have to do is unfold the bench, roll it to where you want to perform your exercise and begin working out. Not only is it easy to begin working out, but it shows how easy it is to store this unit when you are not using it. The ability to fold it up is a much appreciated feature that other benches do not always offer.
Pros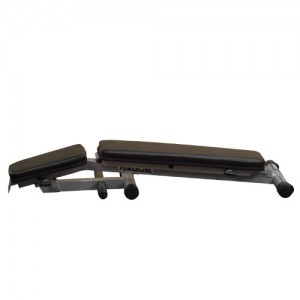 For its price, it does exactly what you need it to do
Folds up and is great when saving space
Seven adjustable positions that make it easy to perform a variety of exercises
Cons
Padding isn't as comfortable as other bench options
Some of the adjustable positions don't seem as stable at certain levels
Rating 

 out of 5 stars.
Where Can You Find the Body-Solid Adjustable Weight Bench?
Overall breakdown
It's hard to criticize this bench for any shortcomings. After all, for the price that it goes for, it's a really great bench option. However, the Body-Solid Powerline seems to be in this awkward middle ground that makes it hard to decide whether or not it's a reasonable purchase.
If you are a beginner athlete who is trying to decide if you want to get into weight training, you may want to go for a bench that is under $100. Then again, if you are experienced with training, it's reasonable to assume that you'd want to invest more money in a bench that offers a few more options.
It might be best to see if you can find a Powerline bench in your area. If so, go give it a try and see if you like the way it looks and feels in person. You might find out that this bench is exactly what you are looking for with a great price tag, or you may decide that you want to step up to the next level and invest in something a bit better.
In our next post we look at the Ironmaster Super Bench Adjustable Weight Bench. Thanks for visiting www.olympicweightsetreview.com, if you liked this article please use our social buttons to give us the thumbs up.

Related Post