Bowflex is one of the most marketable names in the entire fitness industry. You are probably familiar with their infomercials that advertise a variety of different exercise machines. One piece of equipment that you may not be as familiar with is the Bowflex SelectTech Adjustable Bench Series 5.1.
In typical Bowflex fashion, this is a great looking bench that certainly appeals to those looking for an aesthetically pleasing piece of equipment. However, our long-term analysis of this unit has left us hoping for more in a bench, especially at its price point of around $250. This content will take a further look into the Bowflex SelectTech.
Bowflex SelectTech Adjustable Bench Design and Features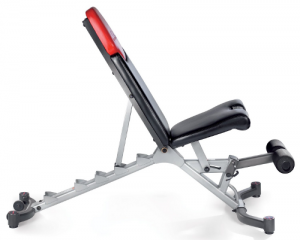 Without a doubt, this bench looks really beautiful from the moment you take it out of the box. The upper area of padding is a bright red that really grabs your attention, while the rest of the padding is a typical, yet still very nice, black color.
The only problem is that the SelectTech doesn't seem to hold its physical beauty for very long. In certain areas that get a lot of usage, like around the seat, there is obvious wear and tear that can be noticed after just a few workouts. We haven't seen the padding rip or come apart, which is a great sign in terms of longevity, but the ripples in the padding becomes quite obvious and these issues look as if they will remain over the life of the bench. Bowflex offers a one-year warranty on the upholstery, so we don't doubt that it's built to last. But at first glance, we notice that this bench wears much faster than other units we've used.
The SelectTech 5.1 adjusts to six different positions, which is two more than the SelectTech 3.1. You may be surprised, but you can actually do a lot more with just a few different additions to the positioning of the bench. Considering the SelectTech 5.1 is about $50 more than the 3.1, the additional positions are certainly worth the extra money.
There is also an additional leg attachment that comes with this bench. The idea of the attachment is to help those who want to do more abdominal exercises. However, it also seems to get in the way when doing ordinary press exercises. It's a nice feature, but we think people should understand that it might be more of a novelty addition that isn't completely necessary.
In terms of size, this bench is great for tall people. Even with small benches, we always find a way to make it work. But whenever you come across a longer bench, it's greatly appreciated to have that extra real estate. The SelectTech 5.1 offers plenty of room that makes it easy to position your entire body on the bench when exercising, even if you are a taller athlete.
Pros
Vibrant colors that will spruce up an otherwise boring gym.
Backed by a quality brand like Bowflex.
One of the longer benches we've come across during our reviews.
Cons
As beautiful as the colors are out of the box, they wear quite quickly.
Awkwardly placed leg attachment that isn't as helpful as intended.
It's rather heavy and bulky, making it less convenient in smaller gyms.
Rating 

 out of 5 stars.
Where Can You Find the Bowflex SelectTech Adjustable Bench?
Conclusion
This bench has the Bowflex name behind it, so it's difficult to give it to many negative marks. However, it doesn't seem to live up to other equipment options offered by the same company. In terms of finding a bench for your gym, the Bowflex SelectTech 5.1 is a bit too pricy, with not enough reasons to spend the extra money.
If you're looking for a bench above $200, there are better options. And if you are looking to save money, don't bother splurging on this bench when you can find something better for less money. If you have already invested in a gym full of Bowflex equipment, this bench will make a great addition. But if not, don't feel like this needs to be your first piece.
In our next post we look at the Universal Five Position Weight Bench. Thanks for visiting www.olympicweightsetreview.com, if you liked this article please use our social buttons to give us the thumbs up.

Related Post