A lot of the reviews on this site have gone over various levels of Olympic Weightlifting equipment. But aside from all of the budget or midrange options, we have failed to mention the gold standard for Olympic Weightlifting. Luckily, today we will be talking about quite possibly the top weight set you can find on the market today, all made by Eleiko.
Eleiko is the industry standard when it comes to Olympic Weightlifting. Chances are if you have watched an Olympic Weightlifting competition or a Crossfit contest, they used Eleiko equipment for their events. There is a reason for this, as Eleiko offers top of the line quality and consistency with their products. While you can expect to spend top dollar when purchasing an Eleiko set, it is sure to last you for many years to come of continual, and daily, use.
Eleiko Weight Bars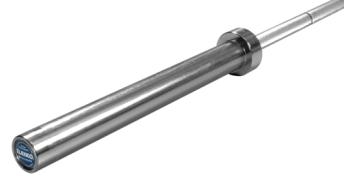 Eleiko offers two different options when it comes to purchasing weight bars. First is their Eleiko training bar, which is intended for maximum durability while being used on a regular and routine basis. Second, the Eleiko competition bar is the bar we mentioned above, which is used in many different Olympic Weightlifting events. However, aside from the name, either of these options would be fantastic for your home gym or fitness club.
Eleiko Training Bar
The Eleiko Training Bar has a total of ten precision bearings that are fitted on the bar for optimum rotation. Anyone who has ever worked on an Eleiko bar will notice how much more fluid and relaxed their lifts have been. This leads to more security and less tension when lifting, which results in less injury to arms and wrists.
Eleiko Competition bar
The Eleiko Competition bar has the same ten precision bearings that are offered with the Training Bar, but it is also made from a Swedish steel that gives it an unmatched durability and perfect flexibility. These bars are tested by being placed in a vice and bent with a hydraulic jack at a force of 1500 kg. What does this mean to you….simple, superior quality and minimal possibility of bending. At this level perfection is the name of the game.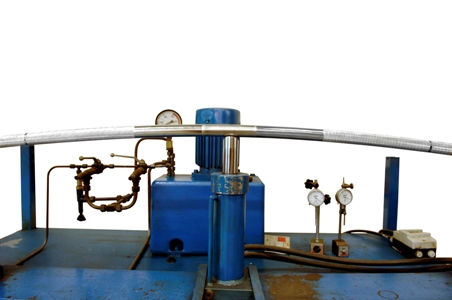 What's the differences between the two bars?
For those who are looking to add an Eleiko bar to their own gym, you may be wondering what the differences are between the two bar options. In truthfulness, the biggest difference is that Eleiko pays an extra fee to the IWF to have their competition bars, certified for competition events. This is a huge detail if you want to prepare on a bar that you will be using come the day of an event, you can mostly do this only on an Eleiko Competition Bar.
The other main difference is the cost of the two bars. The Training Bar will run you around $855 while the Competition Bar will cost upwards of $1050. This extra $200 that the consumer sees is used to have Eleiko bars considered the industry standard for most weightlifting events.
Which Bar should you choose?
The good news is that no matter which bar you go with, you will get a quality bar and it will be worth the cost. I remember when I was in high school and we had Eleiko bars and weights in our gym. This was almost 10-years ago and whenever I go back to visit my coach, they still have a lot of the same equipment that was there when I was in school. Furthermore, whenever I lace up my shoes and throw weight around, the bars feel as natural and as smooth as a decade earlier. This is a great sign and shows the pure consistency and resiliency that you will find only in Eleiko bars.
It should also be mentioned that Eleiko puts a 10-year warranty on their barbells. The warranty is only valid if the bar is paired with other Eleiko products (ie. bumpers, collars and blocks) but it is a reassuring benefit when spending so much on a set of weightlifting equipment.
Eleiko Bumpers

Eleiko would be remiss if they didn't offer bumper plates to complement their state of the art weight bars. So of course, they do. And much like the bar, the plates are some of the best bumpers you can have in your gym.
In a few of our other reviews on other product lines, we have continually mentioned how much we enjoy weights that are differentiated by their colors. This makes it very easy to tell exactly what is on your bar and how much you are lifting. While this is an added benefit for lower-priced weights, this is a standard for Eleiko bumpers.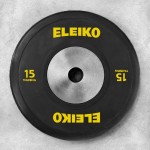 Aside from the color differences, the plates also are made from great material and are meant to last forever. The inserts of each bumper are made of steel and even on the bumpers I mentioned earlier from my high school, the wear and tear is very limited on some of the oldest bumpers we had in our gym. This is fantastic considering you have multiple gym classes each day, almost 365-days a year using them. I see less damage on Eleiko inserts after 10-years of usage, than after 6-months with some other brands. This speaks to the quality that Eleiko puts into their products.
Eleiko bumpers can be purchased individually or in sets. Obviously the sets are a better deal, although a 160kg set will still run you around $2,200. But it is nice to know that you can add extra bumpers individually as needed.
If you are looking for an entire Eleiko set, which includes a barbell, bumper plates and a pair of collars, then this is the best way to go about purchasing your set. Again, it will cost you a few thousand dollars, but it will save you money in the long run.
Final Assessment
Overall, you cannot beat Eleiko. They have been the industry standard for years and by the time people catch up to their equipment, they have already raised the bar again (literally and figuratively). If money grew on trees, every weightlifter would have a set of Eleiko weights in their home gym. However, their price point can be steep, so it's also an added benefit when looking at gyms and clubs to see if they offer Eleiko weight sets.
As the old adage goes, if you want to be the best, you have to train like the best. And rest assured, the best are training with Eleiko equipment.
Our Rating:

 out of 5 Stars.
Pros:

Top standard for Olympic Weightlifting and CrossFit events. If you are looking to practice with the same materials that you'll be playing with, Eleiko is the way to go.
Sure they cost a bit more, but they are certain to be worth it in the long run.
Such a smooth and comfortable lift, which will prevent bodily injuries.
Cons:

It is pricey, admittedly. Which can be a hard investment for beginners or those on a budget. However, if you have the money to spend, I wouldn't look anywhere else when putting together a weight set.
 
Would you expect anything less for the standard of equipment? Eleiko gives us a reason to implement a 5-star system. And if it was a 10-star system, rest assured they'd get 10 stars there too. This set is the best of the best and if you are ready for the competition level then you must be training on these.
In our next article we look at the Top 3 Injuries to Avoid in Olympic Weightlifting. Thanks for visiting www.olympicweightsetreview.com, if you liked this article please use our social buttons to give us the thumbs up.
Related Post