In out previous article we look at the best looking kettle bells on the market in the ONNIT Primal Kettlebells. In this article we look at one of the underdogs in the lifting show market. There are plenty of shoe companies out there that are about as common as they come. Nike, Reebok, and even newcomer Under Armor are all among the top options for weightlifting shoes out there. However, one name that you may not be as familiar with is Inov. That being said, if you haven't heard of Inov yet, it won't be long before this becomes one of your favorite pairs of shoes to carry with you to the gym every day.
Among the Inov line of shoes, the Inov-8 Fastlift 335 is an option that we are very glad to have come across. The Inov-8 offers upgrades from previous versions, proving that they are dedicated to continually getting better. Here is a look at all of what we really enjoyed with a Inov-8 Fastlift 335 weightlifting shoes review.
Look And Style of the Inov-8 Fastlift 335 Weightlifting Shoes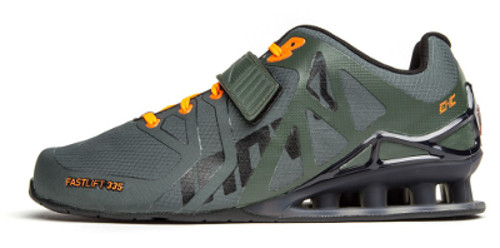 Inov makes a bunch of different shoes that are all very unique looking. Typically, we aren't a huge fan of the type of shoes that have any sort of missing back, much like the Inov-8 Fastlift 335 does underneath the heel. However, after multiple lifts, including our fair share of leg days with plenty of squats, the Inov-8 Fastlift 335 held up very well under the weight. We feel as if the stability is very good, which is one of the biggest priorities when looking for a pair of weightlifting shoes. After all, if you are continually worrying about wether or not you have a stable base or not, then you won't be able to push yourself to the max with your lifts.
You'll also notice that the Inov-8 Fastlift 335 offer some really fresh style, even though it may not be as noticeable with the black and red model. The red and black model is the most common one, and it may not be as stylish as the others. However, there is a green model that has red and black two-tones, as well as a blue and white model that might just be our favorite overall.
If you are looking for a pair of shoes that look great, and that are likely going to be unique because not many other people in the gym are going to have them, the Inov-8 Fastlift 335 are exactly what you are looking for.
Inov Features
The Inov-8 Fastlift 335 are incredibly breathable, which is likely going to be one of the biggest draws. I have feet that sweat quite easily, but the Inov-8 Fastlift 335 had enough breathing slots so that my feet stayed cool throughout my workout.
On the exterior, the Inov-8 Fastlift 335 offers a slick two-tone material. This looks great in the blue and green models, which was mentioned earlier. In addition, there is a unique velcro strap that goes across the middle of the tongue, which is ideal for keeping the shoe stable while hitting hard lifts.
Durability and Fit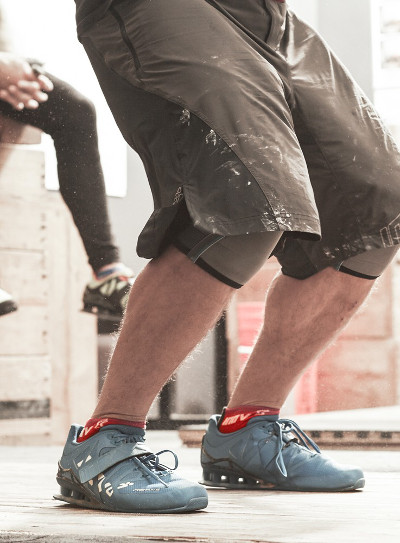 One thing that is incredibly frustrating about other shoe lines is that there is very little consistency with sizing. After wearing the Inov-8 Fastlift 335, it's easy to see that they fit true to size. In addition, the entire line of Inov shoes fit quite similarly; so once you find a pair tha you like, you can rest easy knowing that other models will likely fit the same.
After using the Inov-8 Fastlift 335 pretty intensely for over 8 months, they've also proven to be quite durable. These shoes go through the ringer for weightlifting purposes, and they've maintained their form for much longer than expected. This is a big benefit for when it comes to the reliability of Inov as a prand.
Price
The Inov-8 Fastlift 335 is competitively priced along the same lines as other weightlifting shoes in it's market. At $149, it's comparable to the Reebok Nano 4.0 and the Nike Free Trainer 5.0. This price point is well worth the investment you'll pay.
Pros
These shoes are really unique. If you are someone that is looking for a pair of shoes that are uncommon, these are them.
The durability of these shoes are hard to match among other weightlifting shoes in the market.
The drop in the sole is perfect for those that love squatting and other flat-stance exercises.
Cons
If you've never worn a pair of Inov shoes before, it may be a bit difficult picking the perfect size.
Rating   out of 5 stars
Conclusion
You may not be familiar with Inov, but the Inov-8 Fastlift 335 is worth getting to know. This weightlifting shoe is perfect for regular uses, or the occasional leg day at the gym. Inov continues to put out amazing products and we expect this company to do big things in the industry.
Where can you grab a pair of Inov-8 Fastlift 335?
Thanks for visiting
www.olympicweightsetreview.com
, if you liked this article please use our social buttons to give us the thumbs up.
Related Post