The next adjustable weight bench that we are going to look at is the Legend 3 Way Utility Bench. With this bench, Legend shows that there is no such thing as too much versatility in a product. Not only does the bench offer a load of different angles that you can set the unit at, but it also offers customization options that are unseen throughout the rest of the industry.
As another followup to our Top picks article, this post will take a further look into the specifics of a truly unique and reliable adjustable weight bench.
Design and Features Legend 3 Way Utility Bench
We won't waste any time getting to the real big bonus that is offered with the Legend 3 Way Utility Bench. If you have done any research on this bench you'll probably quickly realize that it offers a ton of options when it comes to the look of this bench.
Color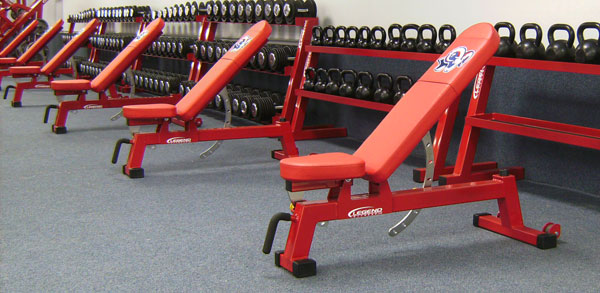 There are about 15 different colors to choose from for the frame and nearly 40 options for the padding color. These color combinations make it possible for you to have a fully customizable utility bench that is unlike any other that you've ever seen.
The option to adjust the colors of a bench is really unique and not many other companies provide the same choices. However, with the success and accolades that Legend has received for this bench, you may start to see more companies offer this option with their own bench sets.
Adjustment Angels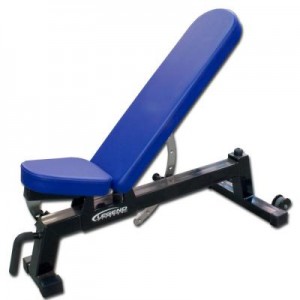 Aside from the color, it's important to note that the frame itself is very strong and provides athletes with a stable and reliable base to complete their exercises on. There are also seven different angles that you can adjust the bench to, which will allow you to target a variety of muscles in your upper body.
One thing that we weren't crazy about is the fact that you can't put this bench into a decline position. Decline bench is among the best workouts you can do for your chest, and to have that missing is a bit of a glaring detail.
However, you should weigh this flaw with your own personal amount of importance. If you don't find yourself doing decline bench, which some people don't because of the pressure it puts on their shoulders, then you will hardly notice that the option is missing.
Wheels
It's also important to note that this bench, like many others, has wheels at the head of the unit. This makes it easy to roll around and get into position in different areas in your gym. For small home gyms, it's great to be able to use one bench for a variety of different workouts. Not only does it save space, but it also keeps things much more organized.
Pros
Unprecedented color options for the padding and frame of the bench.
Sturdy and reliable material that will last for years.
Tons of adjustment options when going from zero to 90 degrees.
Cons
The fact that you can't put this bench into a decline position is a glaring flaw for some athletes.
If you view the color options as an unnecessary novelty option, you can find a less expensive bench elsewhere.
Rating  out of 5 stars.
Where Can You Find the Legend Bench?
Conclusion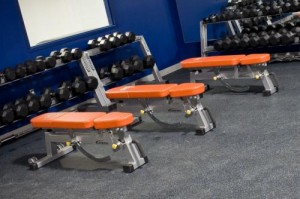 We had to take away half of a star because of the missing decline position for certain exercises. Nonetheless, we still really love this unit. We can't get enough of the fact that you can make this bench look completely unique to match your personality. The ability to change the color of the padding is such an appreciated feature that we've rarely seen before but enjoy having now.
That said, if you don't care about the color of your bench, you might think that the $500 price tag is a bit steep. However, the Legend 3 Way Utility Bench is more than just a colorful gimmick. It also provides athletes with a stable and reliable bench to perform a load of upper body exercises on. If you are looking for a colorful and reliable option for your gym, this is an excellent choice to go with.
In our next post we review the XMark Fitness Commercial Rated Adjustable Weight Bench. Thanks for visiting www.olympicweightsetreview.com, if you liked this article please use our social buttons to give us the thumbs up.

Related Post