One of the most well known sports shoe and apparel companies on the planet, Nike provides an Olympic Weightlifting shoe that is popular for many athletes. With a very diverse training staffs, and tons of money to put into any shoe that they create, Nike produced the Nike Romaleos to get into the weightlifting scene.
When they were first released, many people, myself included, flocked to this shoe to see how good they were. While the first pair of Romaleos was good, the second pair was even better. This review will take a look at the newly released and redesigned Romaleos 2 Olympic Weightlifting shoe.

The Look of the Nike Romaleos 2 Weightlifting Shoe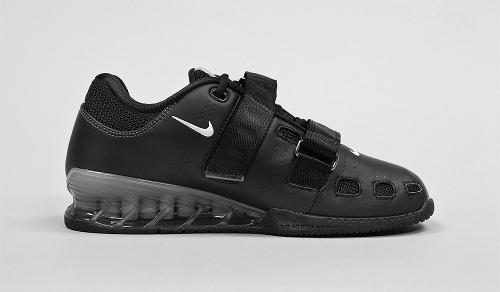 Nike is a huge company with a awesome track record of producing quality products. With this shoe line they once again deliver. The shoes comes in a variety of colors, however the two primary colors we liked were the Neon green and the standard black. The shoes has two straps which are great for increasing the stability of the shoe. We also like the shoe's ventilation, which seems to breath nicely due to the toe vents.
Performance and Design of the Nike Romaleos
At first, I thought that Nike was releasing a new edition of the Romaleos simply to get more money out of its customers. However, after wearing them during multiple workouts, I have been very impressed with how different there are than their predecessor.
First of all, the feel much lighter (50g lighter to be exact). Now don't get me wrong, Nike, for some reason, makes a heavier weightlifting shoe than other companies (like the Adipower) and the difference is noticeable. That said, the difference is also noticeable between the two Romaleos models. While I'd still like them to be more comparable to the weight of other, lighter, shoes, I will gladly take this new improvement.
Removable Shoe Sole on the Nike Romaleos
Another benefit, which I again questioned was how much was marketing and how much truth, is the two different soles that the shoe comes with. One is intended for training, and is a more flat piece of foam. The second is a stiffer material that is intended to be used for competition.
Although I wore the training soles for a few days, I was eager to try out the competition soles and I am happy I did. My feet feel more stable and as if this sole fits my foot perfectly. The only downside I noticed with the competition soles is that my foot seemed to get much more sweaty.
Maybe I am just exercising harder or getting my heart rate higher, but it almost seems like the shoe doesn't ventilate as well with the differing soles. Once I put the training sole back in, I seemed to sweat normally again. I'm not sure what is the culprit of the sweat problem, but its something I will continue to pay attention to.
It should also be mentioned that these shoes are one of the more expensive on the market. And, you can also pay more for different colors, if so you choose. Because of the quality and look of these shoes, you can plan to have them for a while. Therefore, the extra investment may be worth it.
The word on the Street…
These are my very first pair of weightlifting shoes and I am so glad I went with the Nikes! Some trainers in the sport were telling me to go with Adidas but I was reluctant because of the reviews that they are narrow. I wear a 9.5 in airmax and the Roamleos II fit me perfectly. I did have pain for a few days after the firts squatting workout with them, which I knew was good. $ days later I was able to go again with practically no soreness the day after, so I knew my legs got used to them quickly. Intense ATG. Can't wait to start learning clean and jerks. – roguefitness.com 
First time buying oly shoes, feels great. I run a size 10.5 on nike free runs, but I went down to 10 and it fit really well!
Amazingly hefty and extremely stable. No lateral/medial movement of the foot. Squatting in these shoes has helped me achieve better depth and a more vertical torso.
The only downside is the strap that hangs off lose when you strap it tight but you can cut it off an inch and it'll still look good 🙂
SIZING: I wear a size 9 with a 4-inch wide foot. I stepped down half a size (8.5) and my Romaleos 2 fit perfectly snug.
I highly recommend this to anyone who would like to take their squat game to the next level (in terms of flexibility and depth issues) or to those who practice olympic weightlifting. It may be expensive but you get what you pay for!
Final Assessment
Our Rating:

 out of 5 stars.
Pros:
It's Nike! You know you are getting a quality product that puts its name behind its product.
The ability to change soles is quite neat and adds stability to your routine.
The ability to get multiple colors is quite nice.
The Nike Romaleos has a great design
Cons:
The Nike Romaleos are a bit pricy. I'm trying to keep in mind they're Nike and that's to be expected for their products.
The shoe sweat is a little weird.
Overall:
The Nike Romaleos 2 is a quality product. You know what you are getting and can rely on that. While I have played around with many different weightlifting shoes, trying to find that perfect fit, the Nike Romaleos are the closest I've gotten. No matter what other shoes I add to my collection, the Romaleos will always be there for me when I need a reliable shoe.
Where can you grab a pair of Romaleos?
In our next article we look at the
Rogue Do-win Weightlifting Shoes
. Thanks for visiting
www.olympicweightsetreview.com
, if you liked this article please use our social buttons to give us the thumbs up.
Related Post