In our last Onnit review we looked at their Steel Mace. Today we look at their plant based protein offering the "Hemp Force".
A while back, we heard Joe Rogan talking about ONNIT Hemp Force Vanilla Acai protein powder so we thought we'd give it a look. Not only are we always in the market for new goodies, but we appreciate the feedback from a guy who knows his stuff like Joe Rogan does.
ONNIT is no stranger to the supplement game. They have a few other protein powders, as well as a whole line of other dietary options to choose from. We've heard great reviews about the ONNIT T+ Total Strength and Performance Enhancer, but mixed things about the Shroom TECH Sport Clean ATP from ONNIT. With a wide range of feedback on ONNIT, we knew that there would be some things we'd have to be considerate of in this review.

To further help this review, we've also taken a look at the ONNIT Hemp Force ChocoMaca, so we'll compare the two as we go along.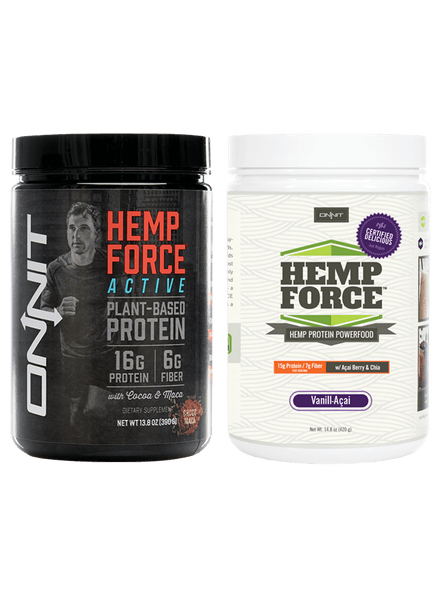 ---
Hemp Force Product Features & Overview
With so many other protein options on the market, what is it about the ONNIT HempForce that we enjoy so much?
Taste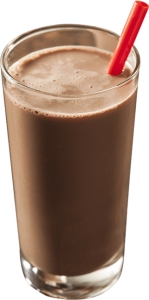 It begins with the taste. There are so many products out there that are incredibly difficult to choke down. When that happens, it makes it difficult for people to understand the importance of protein. If you aren't loading up and refueling your body after those intense workouts, then you are wasting much time and effort. But when you have a product that tastes amazing, it makes you want to actually drink it.
That's the case with the Hemp Force Vanilla Acai from ONNIT. The taste is a smooth and enjoyable vanilla, with an added touch of acai that makes things even more delicious. We even added a scoop of peanut butter to our mixture and this added an entirely new level of taste to the mix. Or if you prefer, mix one scoop of Vanilla Acai flavor with ONNIT ChocoMaca and you'll get the best of both worlds.
Ingredients
You have to be careful when taking the insight of anyone who claims to use a product when they endorse it. Chances are a lot of those big name athletes are getting paid a ton of money for saying what they are, even if their words aren't true.
But when a guy like Joe Rogan speaks up, we can't help but listen. Those who know Rogan know that he isn't just a comedian that also knows a bit about MMA. He's also an incredibly intelligent individual who knows a thing or two about nutrition.
When Joe spoke about Hemp Force, he applauded it for being a vegan option with no dairy or GMOs. You also get 7 grams of fiber and 14 grams of protein with each serving of Hemp Force, which will help to refuel your body. Those that are also looking ot get in their daily dose of Omegas will also be happy to hear that Hemp Force offers:
420mg of Omega-3
6400mg of Omega-6
2000mg of Omega-9.
Hemp Force is known for being an already excellent protein drink. Add in the fact that this superfood mix-up also has Acai, Chia and a hefty dose of Omegas, and you can see why it's a favorite amongst athletes.
Consistency
The next consideration that we always keep on alert for with protein powders is how well they blend up and the consistency they have. Long before the Blender Ball came around, we were holding our nose while trying to gulp down protein that was more in clumps than it was in liquid form.
Because of those key natural ingredients we listed above, Hemp Force Vanilla Acai blends up quite nicely in our Blender Ball cup. For those that are looking for a protein drink that is smooth on the way down, you'll be happy to know that this one passes the test.
Product Price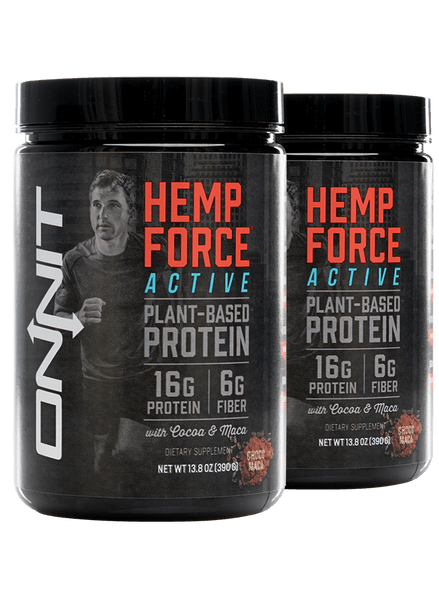 The price for Hemp Force is going to take some getting used to. At $36, it's one of the more pricey protein superfood options on the market. Now factor in that you only get 10 servings for that $36 – as each serving is three scoops – and you can see it's quite pricey. However, what you may want to consider is only adding two scoops and mixing it with a teaspoon of peanut butter. This will help you stretch the protein for longer, while also getting in the essential fatty acids that peanut butter provides.
Pros
Delicious tasting product that mixes well in just a few shakes.
Full of healthy ingredients for sustainable growth.
Can be combined with a list of other ONNIT supplement and dietary options.
Cons
Incredibly pricey to some, at about $36 per bottle, or $3.60 per shake.
A bit sweeter than your average vanilla protein.
Our Rating   out of 5 Stars
Who Will Enjoy Hemp Force Vanilla-Acai Protein The Most?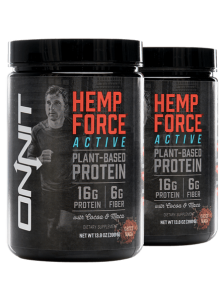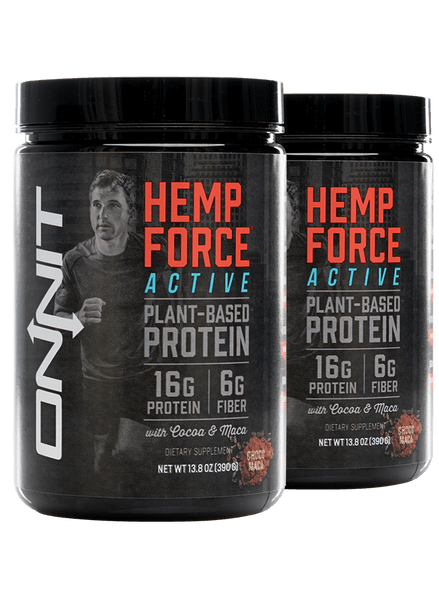 This isn't your everyday protein that you'll find at a grocery store. Instead, it's going to be a superior option that comes with high praise from educated industry leaders. Therefore, if it's your first time using protein, you may think that it may not be necessary to pay for such a pricey option.
However, just take a look one more time at all of the ingredients that are included in the Hemp Force Vanilla. When you see a ton of healthy ingredients listed one-after-another, you realize that this is a product that you can rely on for healthy refueling of your body.
Our Final Verdict
Hemp Force Vanilla Acai is good. It's really good, in fact. But, that's not to say that there aren't other options out there for the budget-friendly athlete in mind. If you are looking for something that is tasty and delicious, no matter the price point, then feel comfortable knowing you're investing in a supplement that even Joe Rogan says is great. But if the big name appeal isn't a big deal to you, then you may be able to find alternative superfood and protein options out there that will help you with post workout recovery.
Thanks for visiting www.olympicweightsetreview.com, if you liked this article please use our social buttons to give us the thumbs up.

Related Post