In our last post we looked at the Hemp Force Acai from Onnit. Today we look at one of the most unique Maces on the market "The Quad".
It was love at first sight when we first laid our eyes on the ONNIT Quad Mace. Granted, that love can all be attested to our experience with Mace exercise equipment from ONNIT. After all, it was with their ONNIT Steel Mace that we first began mace training, and now we do whatever we can to find new ONNIT products to add to our home gym.
The latest product, which stole our hearts from the first time we saw it, is the ONNIT Quad Mace. Whether you have a flair for beauty in general or you are looking for the latest and greatest piece of equipment to add to your home gym, you'll love that you decided to go with the ONNIT Quad Mace.
We should preface this review by saying that we understand there is something epic about using a regular hammer or steel mace for your training. That's because there aren't many things more barbaric or primitive than training with this sort of equipment. However, this isn't the stone ages and you aren't confined to outdated equipment. Instead, The ONNIT Quad Mace is a hefty piece of equipment that will help you get in an insane workout, while also having a unique object that will make for awesome conversation whenever your friends come to work out at your home gym.
Here is a further look into the ONNIT Quad Mace and what it is about this product that we enjoy so much.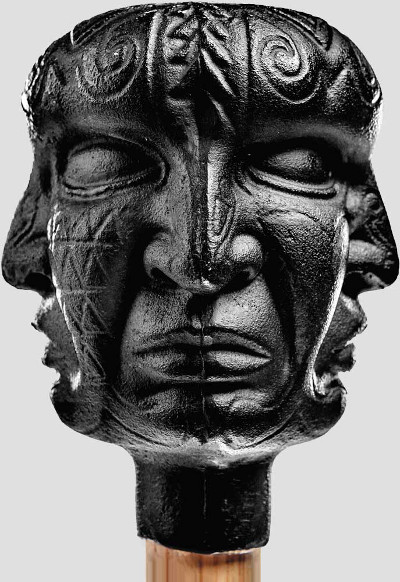 Click here to get more details on the ONNIT Quad Mace!!
---
Quad Mace Product Features & Overview
Facing The Gods
The first thing that you are obviously going to notice about the ONNIT Quad Mace is the unique face that is on the top of the unit. Instead of just a hammer that is uneven on each side, the Quad Mace is a uniquely crafted mace that is evenly weighed throughout the entire unit. That means that you're going to get more complete workouts, while also being safe during your training.
Where does the face of the Quad Mace come from? Well, if the even weight doesn't help you get pumped for your workouts, maybe the origin of the face will. That's because it's said that the Quad God represents the cardinal directions of West, East, North and South. This unique story adds to the overall physical appeal of this mace, which is certainly why it should be a part of your home gym.
Crushing Every Workout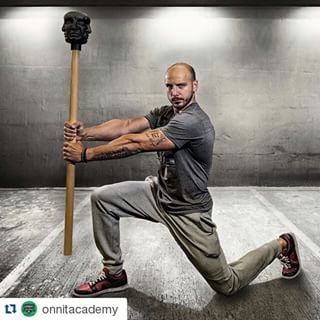 We understand how difficult it is to get pumped to train every single time you step foot on the gym floor. Some days are better than others; a few workouts are more enjoyable than most; and everyone wants to be jacked, without lifting those heavy weights. But when you actually enjoy what you're doing, there is a new sense of motivation that makes it easier to lace up your shoes for a 5am workout.
If you hate your current workout schedule, change things up to include mace training. This isn't boring repetitions of pushing a weight off your chest 10-12 times. Instead, mace training includes going all-out and giving it everything you have for short bursts of energy.
Touch base with your inner primitive being as you hit the gym for Quad Mace training. Not only will you be pushing yourself with different workouts that will provide for muscle confusion, but you'll also find new sources of energy with this exciting new form of exercise.
Stay Safe, While Remaining Comfortable
The more you lose yourself in your mace-training workout, the heavier you will start to sweat. That's a good thing and we say to keep pushing! But while sweaty palms may make you worry about losing control of other equipment, that won't be the case with the ONNIT Quad Mace. Instead, it has a unique grip system that makes it easy to hold, even as you are slinging it around your head or bashing it down in front of you.
Knowing that you can go your hardest, without having to worry about losing control of your equipment, will help you maximize your training like never before.
Pros of Quad
Here's a look at everything we loved about the ONNIT Quad Mace
One of the most unique pieces of equipment that will be a part of your gym.
Durable quality that makes it easy to train your hardest, without having to worry about losing control.
Find new ways to workout aside from your typical weight training.
Fits perfectly with other ONNIT equipment, such as their Primate Kettlebells.
This changes how we look at mace training.
Cons of Quad
Many athletes will want to factor in whether or not they want to invest in a piece of equipment like this. It may not be for beginners to the fitness world.
Our Rating   out of 5 Stars
Who Is The ONNIT Steel Mace Best For?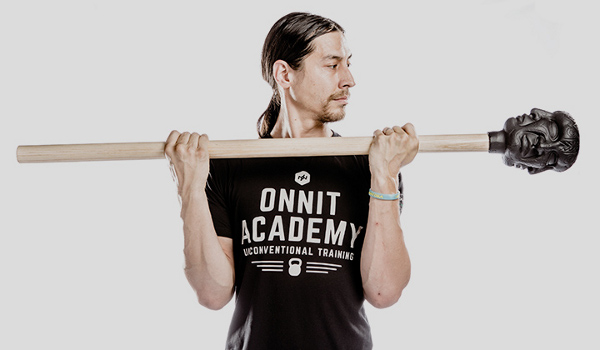 The truth is that anyone who is looking to workout or exercise can benefit from mace or hammer training. However, it's not something that is for everyone, simply because it's a more intense workout that some athletes may not enjoy.
If you are looking to keep up with your isomorphic exercises that only work one body part at a time, or if you prefer to do easy things like an hour on the stationary bike at the lowest pace possible, then this equipment is right for you. The truth is that the Quad Mace will be too serious of a piece of equipment for what you need.
However, if you are a serious athlete that is looking to train like never before, then you can't go wrong with the ONNIT Quad Mace. This will help athletes of all types take their game to the next level by introducing new types of workouts. And when you consider how amped you'll be while swinging this mace around your head, it's easy to see how jacked you'll get with the ONNIT Quad Mace in your home gym.
Our Verdict
It's not for everyone, but it might be perfect for you. If you're considering adding a mace to your home gym, set the standard with one of the best options on the market in the ONNIT Quad Mace.
Thanks for visiting www.olympicweightsetreview.com, if you liked this article please use our social buttons to give us the thumbs up.
Related Post