Exercise equipment made by Pendlay are some of the most common that athletes will come across when working out. Glenn Pendlay has had a lifetime of weightlifting experience and began his own product line for others who share his passion. After living in Moscow and studying the science of exercise and human performance, Pendlay took what he had learned and began sharing it with the rest of the Olympic weightlifting world.
One of the most popular weight sets offered by Pendlay are the Pendlay Econ V2 Bumpers and the Pendlay NexGen HD Bar. This review will give you an idea of the quality and comfort provided by Pendlay products and whether or not they are a good investment for your gym.
Pendlay NexGen HD Bar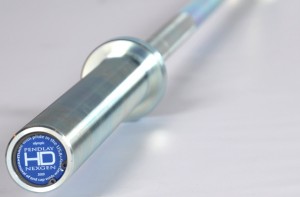 This Pendlay set comes with pretty much everything you will need for basic Olympic weightlifting. The bar comes in two weights. As mentioned in a previous post, women typically use a 15-kilogram bar and men use a 20-kilogram bar (please note that the remainder of this review will refer to the 20 kilogram bar). The diameter of the shaft of the bar is 28 millimeters, which is perfect for the accompanying Econ Bumper weights.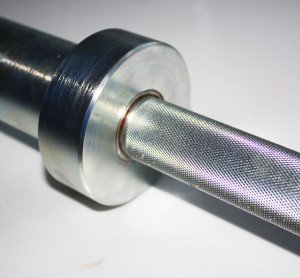 The bar is coated with bright zinc, which is used to absorb the steel and reduce the risk of chipping. They also provide knurl points for Olympic Weightlifting that have distinct beginning and end points (knurling is the part of the bar that you place your hands at). Pendlay tests their bars with 190,000 PSI Tensile Strength. For a typical consumer, this number may not mean anything. But when tested, Pendlay applied 3,500 pounds of pressure on the center of the bar. After releasing, the bar consistently returns to its original form.
Pendlay Econ Bumpers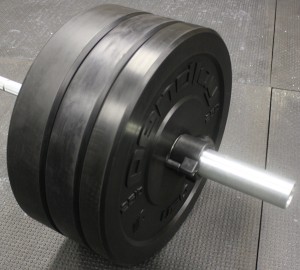 Also included in this set are pairs of 45, 35, and 25 pound Pendlay Econ V2 Bumpers. The plate diameter is 450 millimeters, which matches the International Weightlifting Standard. The inserts of the weights are all stainless steal and the material is virgin rubber with rubber additives. In person, the Pendlay Econ V2 is a very smooth looking plate. Other plates are easily marked after many uses of lifting, something that doesn't seem to be as noticeable with the Econ V2. Also, while some rubber weights have a tendency of carrying an odor after years of lifting, the Econ V2 Bumpers have very little odor and are not overbearing, even in smaller home gyms.
One thing that the Pendlay Econ V2 lacks is a kilogram marking on the bumpers. While many people use pounds for their lifts, it would be nice to have a reference for kilograms when comparing lifts to international competitors.
Final Assessment
The final two points to mention here are the price and warranty of the set. Buyers can find the entire Pendlay set for roughly $700. While some lower brands may be less, this is a great price for the quality that you are getting. The price is also comparable to other Olympic weight sets that are on par with the same level of quality. Included in the price is a Lifetime Performance Warranty on the NexGen HD Bar that protects against major defects, including bending, knurling defects, or coating issues. The V2 Bumpers come with a three-year warranty, which is one of the best warranties on weights that you will find. You certainly get what you pay for with Pendlay, in a good way.
Pros: Highlights of the Pendlay NexGen HD Bar and Econ V2 Bumper set are: 

The set is extremely clean and high quality (good looking )
Very good warranty compared to other sets
Low Odor
3,500 pounds of pressure test without bending
Reasonable Price $$
Cons:

Would be nice to have kilogram markings on the bumpers (Not really a con 🙂 )
OUR RATING  1# Top recommendation !!
They are certainly a quality set at the Olympic Weightlifting level and would be a good value in any home or gym.
In our next article we look at the Rogue Bar and HG Bumper Set Review. Thanks for visiting the Olympic weight set review, if you liked this article please use our social buttons to vote below.

Related Post