We recently took a look at some of the best weight benches available on the market. As part of this series we will now be giving more details of each bench and give you a better in-depth idea of what each bench has to offer. The first bench we will look at will be the Rogue Adjustable Weight Bench. Rogue is a great company that makes fantastic weightlifting products, which is demonstrated in this bench.
Design and Features on the Rogue Adjustable Weight Bench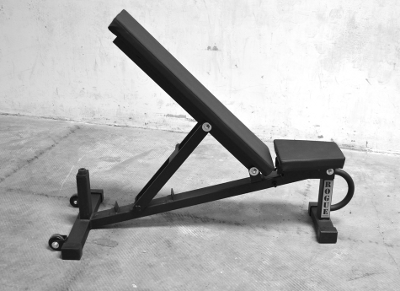 Just because the Rogue Adjustable Bench is a traditional piece of equipment, doesn't mean that it is boring or plain at all. Instead, we really love how modern this bench looks and the sturdiness that it provides. The padding on the bench itself is very firm and there is little to no edges that differentiate between the padding and the frame of the bench.
Padding
It can be quite frustrating when you have a bench that you can see where the pad ends and the frame begins, mainly because this is often the first place that the bench will start to come apart as it ages. But with the Rogue bench, the top of the bench itself is so smooth that it really adds a defining touch to the entire piece. The flat black of the padding is an added feature that is also greatly appreciated.
Sweat
Furthermore, the bench also didn't seem to hold sweat spots, which is always an added feature. There is nothing more foul than getting up from a bench and seeing a pool of sweat beneath you. This doesn't seem to be an issue with the Rogue Adjustable Bench.
Adjustment Angels
The remainder of the bench is also a great design. There are multiple links for you to adjust the bench that allows for straight, decline and incline bench. We will say that there are a few other benches on the market that offer more variation in angles available. However when you realize that you can get in a great workout on the Rogue bench, the other features seem to simply be a bit more of a novelty and not as important.
Re-Positioning Handle
Another added feature that is really nice on the Rogue Adjustable Bench is the handle that is at the foot of the bench. This makes it very easy to pick up and roll around your gym, in case you want to reposition it in a different location for other exercises.
Just like other products in the Rogue Fitness line, the design and accuracy of the Rogue Adjustable Bench was well thought out and you can tell how detailed and beautiful this bench is.
Pros
– Top Quality: Comes from a reputable and reliable brand.
– If you have other Rogue Fitness equipment in your gym, this bench will be the perfect addition.
– Offers enough angles and positions to do a variety of workouts.
– The padding and material of the bench is as strong and secure as you would expect from a company like Rogue Fitness.
– Build Strong to last: No shaking or wobbling.
– Bottom Handle for easy re-positioning of the bench.
Cons
– Alternative benches do offer a bit more variety in terms of positioning and angles.
– It's a bit pricier at over $550. (worth the money if you are interested in Quality)
Rating 

 out of 5 stars.
Where Can You Find the Rogue Adjustable Weight Bench?
Final Conclusion On This Bench
Not only do we really like the Rogue Adjustable bench, but we've also done quite a bit of research on this bench and have yet to see much in terms of negative feedback. We don't want to be completely biased towards this bench as it simply wont be the perfect fit for everyone.
If you are looking for a less expensive beginner bench, there are other options. If you are looking for a bench with more colors and flair, there are other options. If you want a bench with more angles for different exercises, there are other options. But if you are looking for a great quality bench that is likely to be reliable for years to come, you can't go wrong with the Rogue Adjustable Bench. It is an investment that will last you for years to come and will help you reach your goals.
In our next post we review the Legend 3 Way Utility Bench. Thanks for visiting www.olympicweightsetreview.com, if you liked this article please use our social buttons to give us the thumbs up.

Related Post