This review is going to take a look at Rogue Fitness and their Rogue Bar barbell as well as their HG Bumper Plates. Rogue Fitness offers a variety of quality Olympic Weightlifting products and is to be held in high regard when compared with other weight sets.
The fact that they are priced a bit lower than other sets and still offer an outstanding warranty are bonuses for potential buyers. It should also be noted that Rogue Fitness has been around for many years and their products have a history of success with loyal followers.
Rogue Bar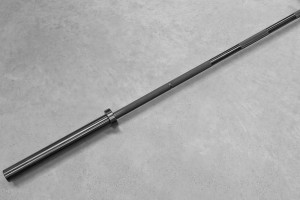 The Rogue Bar has specifications that are pretty typical to most other Olympic Weightlifting bars. The weight is 45-pounds (20 kilograms) and the diameter is 28.5 millimeters. This is pretty consistent with top-rated barbells. The Rogue Bar has two knurling markers for your hands and they are comfortable with their location and the material of the bar itself.
Unfortunately, the barbell does not come with center knurls. Depending on the type of exercise you are doing, this may or may not be a big factor. But from our perspective, if you are going to be paying close to the same amount as you would for other barbells, having the center knurls that other bars offer would be convenient.
The Rogue Bar is coated in a Black Zinc finish. This gives the bar a different look than most barbells that are steel. This is a pretty neat novelty but it also has its flaws. The problem with black is, when you really beat up that bar or bang it against weights, you can notice every scratch or ding.
Also, considering many athletes will chalk up their hands before lifting, you can consistently see handprints and residue left from those lifting before you. Some would argue that weight sets are not meant to look nice, so how important you weigh this is up to you. Updated (Rogue newest Bar "the Ohio bar" is amazing and comes in a pure Zinc finish) 
The Rogue Bar is priced reasonably compared to other bars at around $250. It also offers a Lifetime Guarantee against bending. While the Lifetime Guarantee does not cover bending from dropping the bar on a box or bench, it has gone through strenuous testing to prove its strength. The Tensile strength of the Rogue Bar is 155,000. This may not be as much as the Pendlay NexGen HD, but it's still reassuring to know that Rogue Fitness puts their bars through vigorous testing to assure the quality of its products.

HG Rogue Bumpers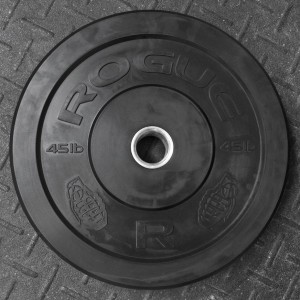 To accompany the Rogue Bar, Rogue Fitness also makes many bumper plates. The price range of their HG plates, makes them a consistent find and popular in many gyms.
Each plate has a diameter of 450 millimeters, which is the International Weightlifting Federation standard. Collar openings on the weights are 50.44 millimeters and the inserts are made of stainless steel.
Rogue offers Bumper sets that will help athletes increase their weight as they become stronger. The basic HG Bumper set costs around $300 and includes a pair each of 10, 25 and 45-pound weights. There are other purchase options, including 230, 260 and 350 pound sets.
Where Rogue sets itself apart is in their 500 and 1,000-pound sets. With each set, you can choose the weights you want to include that total up to 500 and 1,000-pounds respectively. At $775 for 500-pounds and $1,475 for 1,000-pounds, it is a costly investment. However if you are buying for multiple people or using the weights for competitions, they are a great deal for the amount of weight you will get.
The weights themselves are nothing fancy. They are quality weights with no novelty advantages. But they do get the job done and come from a reputable brand. This reputation is reassuring as Rogue Fitness offers a 90-day warranty on 10 and 15-pound weights and a three year warranty on 25, 35 and 45-pounds.
Although there are other bumpers available on the market, Rogue does offer quality weights for a good price with a reputable warranty. If you are looking for a no frills set of bumpers, this is a good way to go. The fact that they also offer sets with over 500-pounds, this can be a bonus for buyers who need bulk sets.
However, because of the closeness in price between other bars like the Pendlay NexGen HD and the Rogue Bar, you may be better considering a different bar. Olympic Weightlifting bars are interchangeable, so even a different bar would still fit the Rogue bumpers if you wanted to mix and match. While the Black Zinc of the Rogue Bar is nice, it has its flaws. And for close to the same price, you can get a NexGen HD bar with a stronger Tensile
The word on the Street…
"I never thought that such great bumpers could be made. These are unbelievable. I already had high hopes for them and Rogue completed smashed them. Great Job, highly recommend. and very fast shipping." – Roguefitness.com
"If you're looking for heavy things to lift, these are heavy. Also they have grenades on them. What more could you want? " – Roguefitness.com 
"These were my first purchase for my garage gym. I rent and was worried about bumpers with too much bounce damaging the walls if I had to ditch a lift. These bumpers are perfect with minimal bounce. The are sturdy and have not shown any wear over the past year and a half. Plus you can't beat having a hand grenade on the sides, they impress everyone who enters my garage gym." – Roguefitness.com 
"I was looking for a bumper set to go with my R4 rack and it was boiled down to Hi-temps and these HGs. What made me go with the HGs were their standard sized diameter and their slightly thinner thickness. A bonus I realized upon arrival was these rubber bumpers had no odor unlike other brands out there! Highly recommended for their looks, size and quality. " – Roguefitness.com 
Final Assessment
OUR RATING  out of 5 Stars  (A top recommended Set !!)
Pros:  

The set is extremely clean and high quality.
Very good warranty compared to other sets (three year warranty on 25, 35 and 45-pounds.)
Bumpers has IWF standard diameter (450 millimeters)
The Tensile strength of the Rogue Bar is 155,000
Reasonable Price $$
Rogue offers 500lb and 1000lb weight sets for bulk buyers
Cons:

Would be nice to have center knurls marking on the bumpers (Not a deal breaker, but note worthy)
Scratches or dings from use are more noticeable on the Black Zinc finish. (Updated The Ohio Bar comes in Pure Zinc finish)
Rogue delivers with this gear and with these in your camp the sky is the limit. We highly recommend choosing this set to gain the best training experience for your money.
In our next post we take a look at Weightlifting Theory and Our Top 3 Olympic Weightlifting books.
Thanks for visiting the Olympic Weight Set Review, if you liked this article please use our social buttons to give us the thumbs up.

Related Post