Another shoe that is worth taking a look at if you are looking for a pair of Olympic Weightlifting shoes, is the Rogue Do-win Weightlifting shoe. If the name sounds familiar, its because it is.
The name, "Do-win", is very similar to the Do-win made by Pendlay. As a matter of a fact, they are pretty much identical to the Pendlay model in every way, except for their appearance.
The Look of the Rogue Do-win Weightlifting Shoe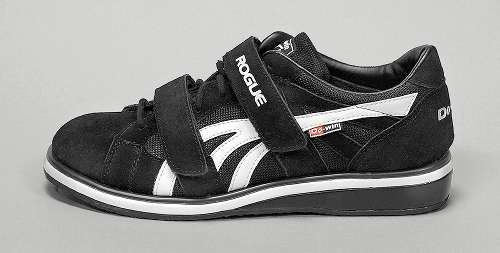 While the Pendlay model offers just one strap, the Rogue Do-win offers two straps and a unique suede pattern. Also, with a brand like Rogue backing it, it is a very good shoe to consider. Rogue continues to make a name for themselves with the workout equipment (See our Rogue weight set review)  that they offer. The same is to be said with their new shoe model.
While the old Rogue model received a lot of slack for its poorly designed tongues and soles (many people complained that the tongue would tear and the sole would come apart from the shoe), this newer model does not seem to have any of those concerns from our time using them. Granted, we didn't put them through the ringer like some of the other shoes we wear, but we were happy with their initial testing.
Performance and Design of the Rogue Do-win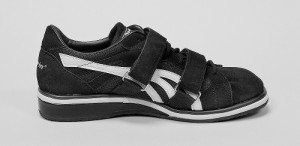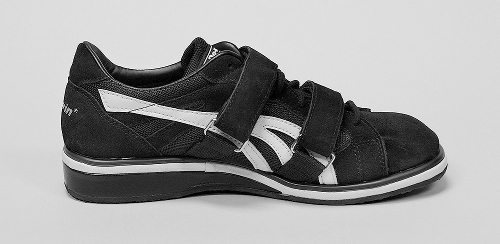 The Rogue Do-win is one of the more comfortable shoes I have worked out in. Having a wide foot, sometimes it can be difficult to find the perfect shoe that fits in length and width. However, this pair fit snug and once I laced them up, there was just the right amount of breathing room that allowed me to feel comfortable yet safe.
Also, we like the double strap that is offered on the Rogue Do-win. This seems to be something that is hit and miss. While some shoes that have a double strap will feel very tight and narrow, I was able to play around with this pair until it felt good on my feet.
One thing that I did notice once I had my shoes tied and ready to go, was that the heel did feel a bit lower than I'd like. As with any sport equipment, there is a fine line for perfection, and what works for some people wont necessarily work for others. I do have some shoes that feel lower in the heel and mentally I feel more stable, but for some reason these shoes just didn't seem to give me the stability I would hope for in a shoe with this type of makeup.
Another downside that I didn't really enjoy about the Rogue Do-win was the material and color. I believe that they attempted to make something very unique and original compared to other brands out there, but they aren't something I prefer. The suede material just doesn't seem to flow with the rest of my workout equipment and its not something I would trade my other, better looking shoes for. That said, if suede is your thing, then you will probably love this shoe.
The word on the Street…
"These shoes are sincerely the best purchase I've ever made as far as my lifting goes. I am able to hit depths on my squats that have the guys at my gym scared to watch me lift. They've also helped me improve my deadlift. The heel keeps the weight where it should be and my knees happy. I squat heavy 6 days a week in these bad boys and all is well." – roguefitness.com
"
I've been lifting for a little over 5 years. From the first time I started lifting I loved squats and olympic lifting. Don't do what I did in those 5 years. I didn't buy these shoes. I would've made bigger gains earlier and would've eluded injuries. This shoe is great. I have no idea why I waited so long to get these shoes. I feel great in these shoes. If we're talking about stability then yes! This shoe is amazing. Never felt so stable while lifting. Builds confidence under the bar. I say don't wait any longer, just make the investment. You won't regret it.
Oh! Long laces and long straps are kinda a downer but you know? It's alright for first shoe. Also order a half size down from your regular shoe size. I usually wear a 10 for casual and running shoes. I ordered a 9.5 and it fits perfectly!"– roguefitness.com  
"
I'd been lifting barefoot for a long time, and had always heard how a good pair of shoes would help my form in various lifts, but was always skeptical until I tried these shoes.
I'm a total convert now! I had originally ordered the Adidas shoes, which were far too narrow for me, so I put a little extra money toward these after reading that they were a better fit for people with wider feet. I ordered a true to size 12, and while they are ever so slightly looser than my size 12 Asics running shoes, it's a comfortable loose rather than a sloppy loose. When tied on normally and strapped down, the shoes are a solid fit and my feet aren't wedged in at all.
Now I have a great connection to the floor while squatting and deadlifting, and the heel support feels great even on non-leg days, when I do overhead barbell presses. The soles somehow manage to grip my slick garage floor as well. The only thing I would alter is adding a removable insole so the lifter could use custom inserts for arch support.
Overall very impressed with the shoes. Great job, Rogue! " – roguefitness.com
Final Assessment on The Rogue
Our Rating:

 out of 5 stars.
Pros:

Growing brand that will continue to get better with their overall line of products.
Double straps that add comfort.
Great price for such a quality brand.
The Rogue Do-win has a Wide Design for athletes with wider feet.
Cons:
Not a huge fan of the suede material and color on the Rogue Do-win.
Overall:
A huge benefit to those looking at possibly buying the Rogue Do-win is its price point. At roughly $120, you are getting a solid shoe for much less than, say, Nike or Adidas. I'd say if $120 is your price point, take a look at either the Rogue shoe or the Reeboks, which also come in around the same price.
Where can you grab a pair of Rogue Do-win?
In our next article, we review the Reebok Oly Weightlifting Shoe. Thanks for visiting www.olympicweightsetreview.com, if you liked this article please use our social buttons to give us the thumbs up.

Related Post