If you've been keeping up with previous posts, you've probably noticed we are huge fans of Rogue fitness equipment. Our previous reviews have taken a look at their bars, the HG Bumper set, and pairs of their shoes. Well the full line of Rogue products is much deeper than just the products we've mentioned here. For that reason, we thought we'd take a look at another set of bumpers made by Rogue, the Rogue Hi-Temp.

Click Here to check out the Rogue Training Bumpers By Hi-temp at RogueFitness
Rogue Hi-Temp Bumper Design and Features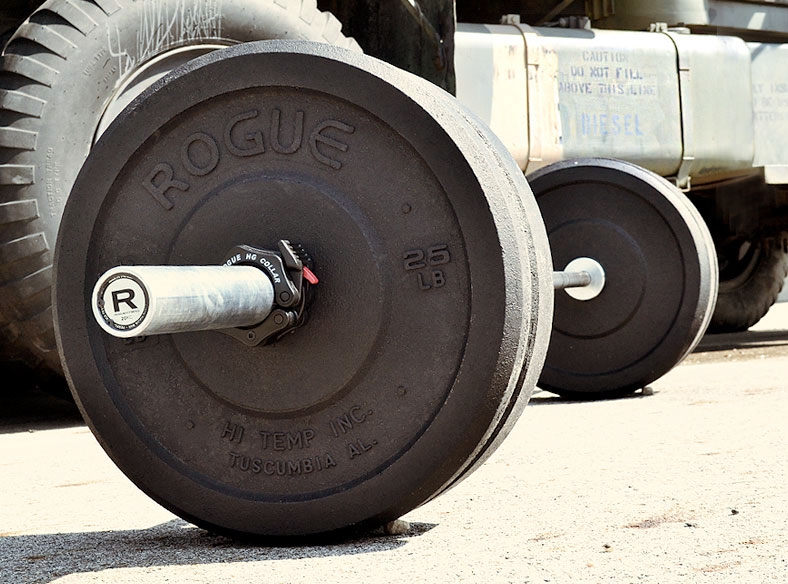 The Hi-Temps are some of the most popular bumper sets available. Chances are you may have also seen them in your current gym or school fitness room. There isn't anything fancy about these weights. They aren't multi-colored or necessarily that flashy. But what they are is solid and reliable weights that come from a company that makes an entire line of fantastic Olympic Weightlifting products.
Color options on the Rogue Hi-Temp
The Rogue Hi-Temp come in a black rubber color. Like I said, nothing special. But while we really enjoy the colors from some other products, the all black color of the Hi-Temps is perfect for what they offer. They even seem to wear perfectly. What I mean is, even in schools across the country that have Hi-Temps, you can see the wear that has been put on these weights. It's not uncommon to see markups or chalk stains on the plates.
Furthermore, if the weights have a bit of wear around the edges, that is usually a good thing. There is something about the feel of Hi-Temp weights that remind you of playing high school sports or realizing what it felt like to reach your first max weight with all your buddies cheering you on. Considering these weights are quite simple and plane, there is nothing wrong with that and they certainly are perfect for what they do.
Steel Inserts on the Rogue Hi-Temp
The steel inserts of the Hi-Temps are exactly what you'd expect to find from Rogue equipment. Even better, if you have a Rogue Bar, you can expect the weights to slide on and off with the most comfortable ease, without getting caught or stuck.
How much will the Rogue Hi-Temp Cost (Pricing)?
Also in line with other Rogue products, the company offers great deals when you buy these weights in sets. If you are a beginner, you can purchase the 160lb or 190lb sets; both will run under $400. The 260, 230 and 210 pound sets run in the $400-$500 price range, which is well worth it for what you're paying for. But the best deal would be the 350lb set, which includes:
4 x 45-pound ( yes FOUR)
2 x 35-pound
2 x 25-pound
2 x 15-pound
2 x  10-pound
The cost is just above $650, but it may be the last big investment you ever make on weights, considering these will probably last you the rest of your life. If you are a gym or a school and needs to supplement your weight room with just a few more Hi-Temp's, Rogue will also accommodate to those requests while piecing out specialized plate sets as well.
Word on the Street ….
"These things take an absolute beating at my box. You have to watch out for the goof ball dropping the 45lbs bar from over head with 10lbs plates on each side because the steel insert might start to work its way out. But, these will make your CrossFitters feel at home. Easy on the hands. Hi-Temp had to widen out some 15lbs plates for me, but they did it and there's no better plate for all of the lifts CrossFit does. Dead lift w/o collar. They bounce, nuff said." – roguefitness.com
"These things hold up well to lots of outdoor abuse. Even the 10/15# plates are solid if you treat them right. These are a great buy for the money." – roguefitness.com
"These are perfect bumpers for any garage gym setup. I've tested both the HG bumper plates and these, and ultimately went with a full set of these from a pair of 10s, 15s, 25s, 35s, and 45s. They aren't as shiny as the HG ones, and are actually a bit rough, but they can certainly take a beating without any worry of messing them up. A great American made product!" – roguefitness.com
"Great quality and great product. Rogue continues to have top of the line stuff. Thanks!" – roguefitness.com
Final Assessment
Our Rating:

 out of 5 Stars
Pros
Durable and will out last you.
Great price
Very good warranty
Cons
Larger size than competition grade Bumpers, which limits the amount of weight you can put on the bar.
Overall: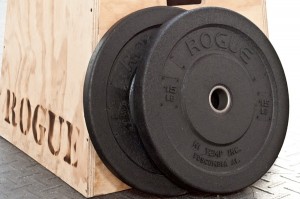 We take a notch off of these bars for two reasons. Firstly the bumpers on the Rogue Hi-temp tend to be larger in size. The downsize of this is that you can't get as much weight on a bar because you will run out of space. Secondly we have to take into account we have held the Eleiko set to be the holy grail of weight. Compare the two and make the call yourself.
That said, the Rogue Hi-Temp also come with a price tag that represents how great they are. For what you pay and what you get, the Rogue Hi-Temps are certainly at the top of their class. But in order to differentiate the Eleiko and Rogue models, we figured we'd take .5 points off of perfection.
We've done plenty of reviews on Rogue, and for good reason. It is a top brand when it comes to Olympic Weightlifting gear and you can't go wrong by adding their products to your gym. If you've read our review on the Rogue Bar, hopefully you went out and picked one up. In that case, if you're looking for some other Rogue bumpers to add to your set, the Hi-Temps are the perfect way to go.
It's hard to imagine, since I'm such a fan of the color coordinated weights, but these black weights are perfect for any gym. Furthermore, as you advance in your weightlifting goals, you will physically see the marks of pain and glory, as represented on the Rogue Hi-Temp. This is a great weight set to buy, either in full or as individual weights. And if you have a Rogue Bar, it's a perfect combination.

In our next article we discuss
the Importance of an Olympic-Grade Knee Sleeve
. Thanks for visiting
www.olympicweightsetreview.com
, if you liked this article please use our social buttons to give us the thumbs up.
Related Post