A vital part of any gym is a quality and solid bench that allows you to do many different exercises. A good flat bench is great for certain chest, arm and leg exercises, but an adjustable bench is an even better resource to get a well rounded workout that you otherwise wouldn't be able to attain with a regular flat bench.
If you are in the market for a new adjustable weight bench, or simply looking to get your first, there are a lot of options on the market. Luckily for you, this list will compile eight of the best adjustable weight benches available to help you better determine which may be best for your gym.
Rogue Adjustable Weight Bench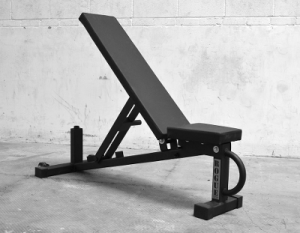 The creators of some of the best weights in the industry have diversified their product line to include benches as well. The Rogue adjustable weight bench is a top-of-the-line bench that provides users with a comfortable place to position themselves, as well as a sturdy platform that will ease your mind when lifting a lot of weight.
The padding is over 2-inches high and is made from a quality material that wont wear and become dingy in your gym after only a few years.
Although it is priced a bit higher than some other adjustable benches, the quality of the material lets you know that you will have it for many years and it is certainly worth the investment.
Lastly, this Rogue model adjusts to a variety of measures, allowing you to do flat, incline, or decline exercises, at nearly any angle imaginable.
Its no surprise that one of the most reliable weight companies in the world have made an equally impressive adjustable bench. See our full review here.
Legend 3 Way Utility Adjustable Weight bench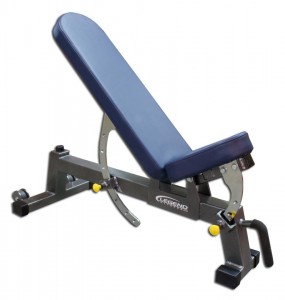 One of the most common adjustable benches that you may see in gyms is the Legend 3 Way Utility adjustable weight bench.
Legend has been around in the game for quite some time and they provide a great bench with this model. The first impression is that its an aesthetically pleasing bench.
It comes in colors that are offset from the padding and the frame of the bench. The next thing you'll probably notice is the amount of adjustments you can make with the varying levels on the bench.
There is room to adjust the longer part of the bench, as well as the seated part, making for a variety of really comfortable angles for different exercises.
Another added benefit that may go unnoticed until you have it and realize how convenient it is, is the wheels and handle that are a part of the bench as well.
This setup makes it very easy to wheel the bench around your gym and get it into the perfect position for lifting. It too is a bit pricy, but certainly worth the investment. See our full review here

XMark Fitness Commercial Rated Adjustable Weight Bench
The XMark Fitness Commercial Rated Adjustable Dumbbell Weight Bench is a really great bench for gyms that might be tight on space. But just because the dimensions are a bit smaller, don't be fooled into thinking that this isn't a heavy-duty bench that will help you get great workouts in.
This bench offers a change from other benches on this list, as it has individual levers in place that will allow you to position the bench at different angles.
One thing that could be improved is the fact that the setting area doesn't offer as many adjustable positions as other benches, making for awkward feeling positions during certain exercises.
Nonetheless, for a few hundred dollars less than the preceding two benches, it's a good buy and a quality bench that can handle 1500 pounds in weight capacity and it is built to last. See our full review here

Body-Solid Powerline Flat/Incline/Decline Folding Adjustable Weight Bench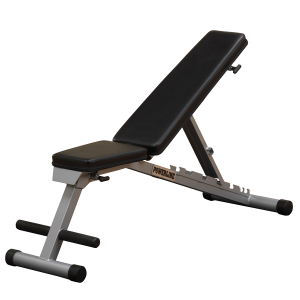 Sometimes the best route to go is plain and simple. The Body-Solid Powerline is the perfect example of this and is good for any beginner gym or someone who is looking to get an adjustable bench on a budget.
There are 7 total adjustment positions offered on this bench, although the setting area does not adjust at all.
This bench also has wheels on the bottom, although it doesn't seem to be as easy to maneuver as some of the other benches available.
This is a great beginner bench for under $200; but if you are looking to do some serious lifting, you may want to consider different options. See our full review here

Ironmaster Super Bench Adjustable Weight Bench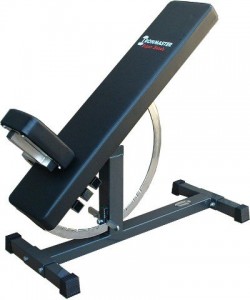 A modern take on adjustable benches in the Ironmaster Super Bench.
Physically, it looks completely different than any other bench on the market, especially in the seat area that transitions to a variety of different angles.
Also, the padding on the bench is very thick and sturdy, making for an overall pleasing bench. Best yet, the Ironmaster Super bench offers 11 angles for your to adjust to, making it great for hitting every angle for bench exercises.
Its not as pricey as the Rogue or the Legend, but a bit more then the Body-Solid.
If you are looking for a middle-of-the-road price point, that delivers amazing results, the Ironmaster bench is an excellent way to go. See our full review here
Bowflex SelectTech Adjustable Weight Bench Series 5.1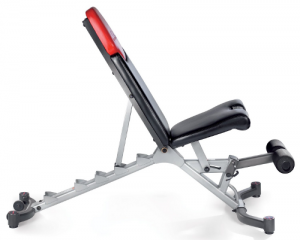 If your home gym is full of Bowflex equipment, you'll be happy to know that you can complete your set with the Bowflex SelectTech adjustable weight bench. In typical Bowflex fashion, the color set is a beautiful looking black and red, and the stability of the bench is among the best for its price point of under $250.
There are only six different positional angles for this bench, so not as many as some of the other benches on this list.
But the great news is that it comes with the standard Bowflex 30-year warranty on the frame, letting you know that they believe in their products.
If you're a huge fan of Bowflex products, you'll surely appreciate this addition to your gym. See the full review here
Universal Five Position Adjustable Weight Bench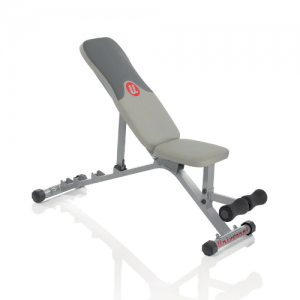 A step up from the CAP Bench is the Universal Five Position adjustable weight bench.
This is a great entry-level bench, which still comes in at under $100 if you search online.
This bench has positional angles at -10, 0, 15, 30 and 45 degrees, making it perfect for a ton of exercises.
It also has a very sturdy frame that wont rock back and forth while you are lifting heavy weight.
Another appreciated feature of this bench is that the color of the padding is a lighter grey/white.
This may just be a novelty feature, but in a world of fitness products that are black, a lighter colored material stands out nicely. Full review here
CAP Barbell Flat/Incline/Decline Adjustable Weight Bench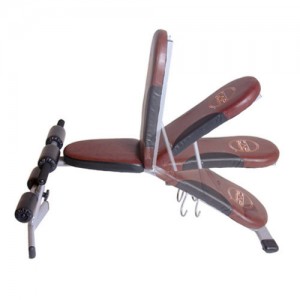 If you are a hardcore lifter who doesn't need all the frilly attachments and extra positions, the CAP Barbell adjustable weight bench is a great options at an outstanding price. At around $60, you can't beat the price on this bench for the quality that it offers.
It only has 4 adjustable positions, but that may be all you need for military-press and incline, decline and flat presses. There is also a very comfortable foam-covered area for your hands, making leg raises more comfortable and convenient.
The CAP Barbell Bench isn't anything extraordinary, but its perfect for those looking for a cheap bench that delivers great results for its price.

Overall Thoughts
You can't go wrong with any of the adjustable weight bench on this list. Obviously, it's going to come down to what you need, how much weight you are going to be lifting, how much space you have, and how much money you want to spend. For hardcore athletes and major gyms, consider the benches at the beginning of this list. And for beginners or smaller home-gym enthusiasts, the CAP and Universal or great budget benches that still offer good quality.
In our next article we take a deeper look at the Rogue Adjustable Weight Bench.