We have reviewed many Olympic lifting shoes and have assembly our top 8 best Olympic weightlifting shoes for anyone that is serious about the sport of Olympic weightlifting. The shoes in our list ranges from professional to entry level so there is something for everyone. First lets chat about why you need quality Olympic weightlifting shoes.
Why get Olympic lifting shoes?
There is a pattern of movement involved when you are performing Olympic weight lifting exercises such as the Snatch or Clean and Jerk. These exercises require that a great amount of force be exerted from your body and is supporter through the feet. Therefore your feet require proper cushioning and padding in order to manage that force. This will allow you to enjoy full benefits of the exercise and avoid injuries.
 Why can't I use regular shoes?
The main issue when lifting in regular shoes is that they are usually padded on the sole which makes the body 'sink' into the shoes when you try to perform our lifts. This will lower your capacity to exert force and press up against the weight because the padding is absorbing lots of tension.
Another problem is that you have a higher chance of injury due to the instability of in the design of other shoes. An ankle roll when doing heavy weight lifting can be extremely severe. This is because you are normally lifting weights that can cause significant injury if mishandled.
Weight lighting shoes have a solid flat sole design and less soft cushioned surface, hence, they reduce the chances of ankle rolls and instability issues. Keep the cushioned shoes for activities like running.
Olympic weightlifting shoes: Tools of the Trade
One of the most essential equipment a lifter should own is a pair of Olympic weightlifting shoes.Weigh lifting shoes are secure and keeps your foot in place to prevent it from moving. They offer firm contact with the surface and reduce sole compression.
Olympic weightlifting shoes are design from the ground up for the purpose of Olympic weightlifting. When you have a shoe that has a singular focus, the end result of a quality product for a deserving sport.
Qualities of Olympic lifting shoes
Sole
The soles of the best Olympic weightlifting shoes shoes should be made using rubber which is perfect for both support and traction purposes. Its important that you feel tightly fixed on the surface with your shoes. If you feel like you are slipping then problems are likely to occur. Most of the best Olympic weightlifting shoes also tend to have a flat sole surface. This is a perfect design for the sport because it promotes greater stability.
Fit
When purchasing Olympic lifting shoes ensure that you buy ones that suit your body and will allow you to lift the maximum quantity of weight you can achieve. Make sure that the shoes are fitting your body well and that you are comfortable in them for long gym sessions. You must know your foot structure.
Do you have narrow feet?
Do you have narrow wide feet?
What is you "true" foot size? (Tip: Try on a pair of dress shoes, that is one way to tell your actual size or click here for help)
Does your feet sweat? (Important in determining if you should get a breathable shoe)
Heel Support
Check the support system the Olympic lifting shoes offer. Look out for firm heel support that makes you feel sturdy. This is particularly essential if you have weak ankles which tend to roll in or outwards when doing squats. You should get less ankle motion and have the ability to hoist more weight.
Also Observe the heel high that is right for you. the best Olympic weightlifting shoes will have a heel high between 1/2″ or 3/4″ inches.
Olympic lifting shoes weight
Olympic weightlifting shoe brands offer somewhat different weight so be observant. Expect your typical weight lifting shoe to be heavier than a typical running shoes due to the additional support required. In spite of the heavier weight, the shoes should not be too heavy to limit your movements.
Below is our list of the Top 8 Best Olympic lifting shoes
Nike Romaleo 2 weight lifting shoe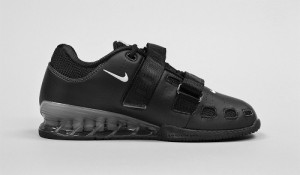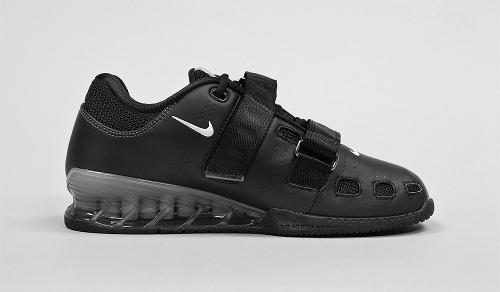 The Nike Romaleo 2 is are high quality Olympic lifting shoes, manufactured by the world's most popular shoe company. Nike has step up their game to support the sport of Olympic weightlifting and these shoes deliver.
Read our full review on these shoes to see why these are top rated.
Price: $189 range
Pros
It has strategically placed forefoot straps (double strap design) as well as interior elastics to offer a user-specific fit
It is created with fine materials to maximize performance
Solid sole structure
Olympic style heel design and high
Multiple color options
Cons
You pay more for value and quality.
Adidas AdiPower Weightlifting Shoe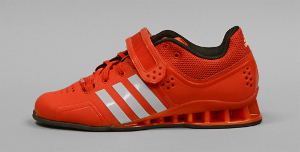 Adidas is a popular company recognized for their AdiStar weight lifting shoes. If you haven't seen these shoes in your gym or training facility before then I would leave that gym and never return.  These shoes set the standard for what the best Olympic weightlifting shoes should be like. Read our full review to see why so many professionals have chosen this shoe (even though they are expensive).
Price: $199 range
Pros
These Olympic lifting shoess are durable and stable for maximum flex in the forefoot
Provide great color scheme with beautifully designed styles
Adidas AdiPower enables more ventilation
Provides maximum support with a strong duty strap, and a polymer Torsion heel system that holds your heel and foot in position
Cons
It is quite expensive, costs around $200 (but you pay for quality)
Rogue Do-win Weightlifting Shoes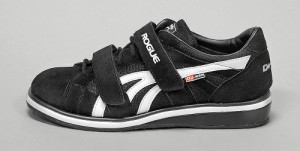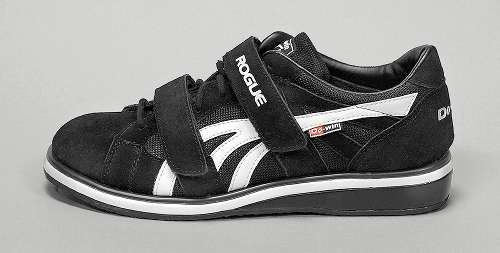 Rogue's Olympic lifting shoes have a .75 inch heal height and strong duty stray system. This shoe is made to be a work horse, no flash. Perfect for your daily workout shoe.
Read our full review to see why this is a great option when you don't want to spend $200 on a shoe.
Price: $119 range
Pros
Provides great breath-ability due to mesh inserts and stability because of two short hooks and loop fastening tarsal straps as well as a lower heel.
Offers great comfort for weightlifters of all skill categories.
Durable straps that enhance comfort
Rogue Do-win provides a broad design for lifters with wider feet.
Great Price: Retails at around $119
Pendlay Do-win weightlifting shoe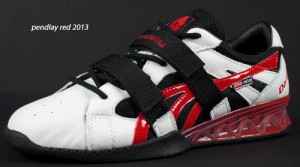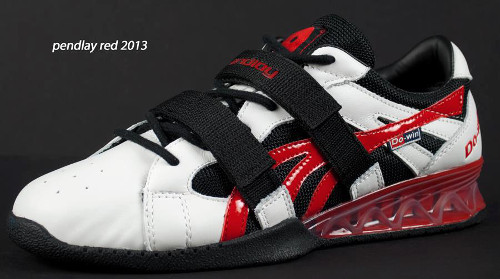 These Olympic lifting shoes are created by a quality weighting company. Pendlay shoes are wider than most shoes, has an average 3/4 inch heel height and the latest model is a step up from the previous shoe for sure.
Read our full review to see why we choose the Rogue Do-wins over these.
Price: $129 range

Pros
They are very comfortable
It is affordable
Great alternative for people who wish to upgrade from basic athletics to Olympic lifting shoes
Cons
Limited color selection
Retails at around $129.99 ($10+ more than the Rogue do-win for the same shoe)
Risto Weightlifting Shoe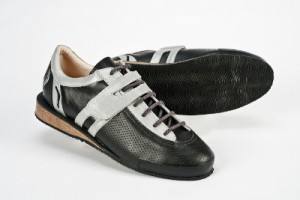 Risto has created several Olympic lifting shoes over the past few years. The company designs some of the Best Weightlifting Shoes and with customizable colors. It features full leather interior of upper, eyelets hidden in inside upper, super flexible forefoot for jerks, natural rubber outsole.
Risto are great shoes that are hand made by skill  read our full review here
Price: $130 range

Pros
They are high quality shoes that are handmade.
Socially responsible production
The Olympic lifting shoes are a great fit and comfortable
Proportional heel height
Cons
Although they offer custom colors, at times they are hard to get.
More expensive than other lesser recognized brands
Reebok Oly Weightlifting Shoe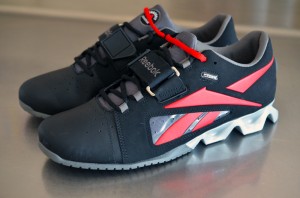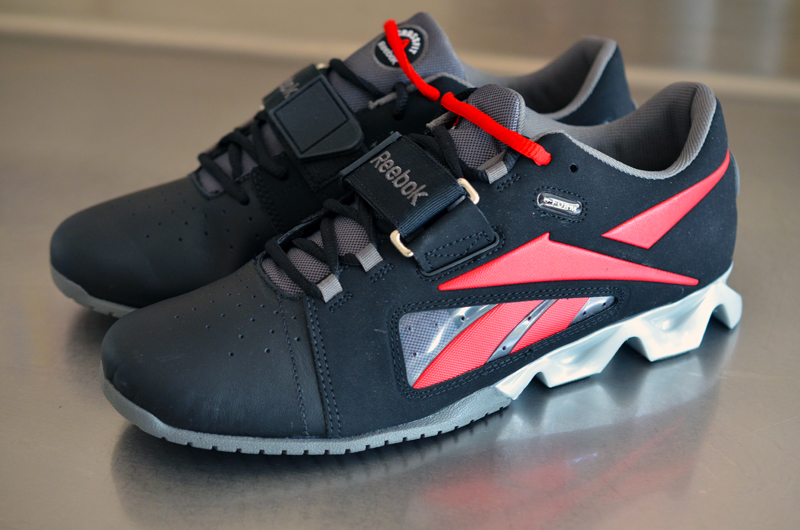 The Reebok are available in 4 varying styles-two for men and two for ladies. The men designs are white with a black toes and a mixture of red and black accents and ladies' design are white with black and purple gray accents. These shoes are made using rubber sole and a TPU heel. Heels have a 'jagged' triangular design to enable one to hold and climb rope easily. Read our full review of these shoes here
Price: $149 range
Pros
They have low profile heel and sole. the heel is affective and stable
The Olympic lifting shoes are lightweight with a wide toe box
Have excellent durability
Reebok Oly boosts U-form technology
Truly Multi-Use Design
Cons
Somewhat expensive for a mid-range shoe, Costs around $149
VS Athletics Weightlifting Shoe Side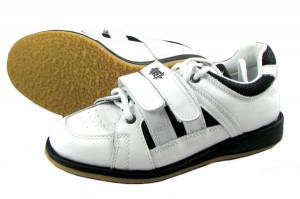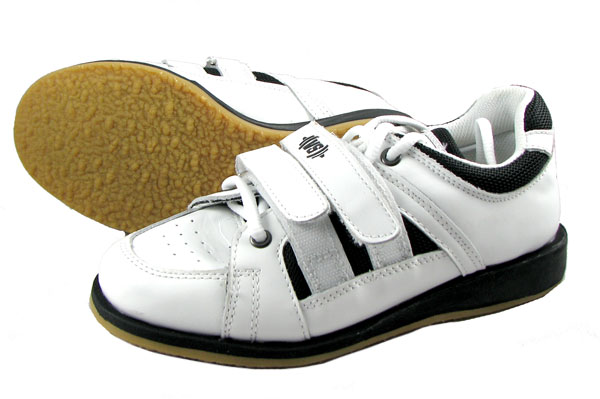 The VS are great entry level Olympic lifting shoes. The shoe sole is made from hard rubber material that makes you feel solid and stable when weightlifting.
It has two hooks placed on the front to make you feel comfortable. Most individuals prefer having two hooks rather than one.
Price: $90 Range
Click Here to check out the VS Athletics Weightlifting Shoe
Pros
They are cheap and good entry product
Two hook system is great to ding in an inexpensive shoe
Firm soles and very solid foundation
 Cons
They are not very durable
Asics Weightlifting Shoes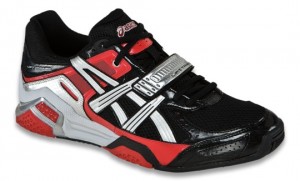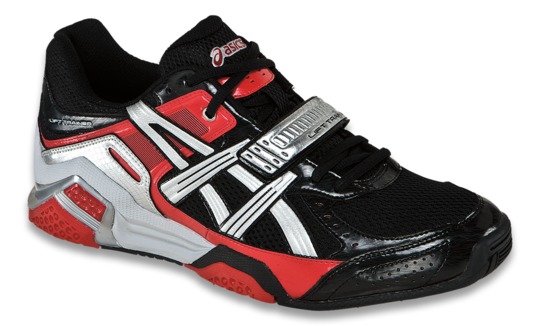 It is made from high quality material with a rubber sole. The main part of the shoes is created using synthetic and mesh materials. Asics comes in two distinct colors; one color set is a combination of navy, silver and the other one is red, silver and black . They are ideal entry shoes into the Olympic weightlifting shoe market.
Price: $80 Range
Click here to check out the ASICs Weightlifting Shoe
Pros
Firm quality that is durable
Comfortable Olympic lifting shoes that allows breath ability and reduces swamp-foot
Provides multiple colors to select from
Fair Price of £80-$95
In our next article we look at Weightlifting Wrist Wraps and see Why Lifters Need It. Thanks for visiting Olympic Weight Set Review, if you liked this article please use our social buttons to give us the thumbs up.
Related Post