When I first got into Olympic Weightlifting, I had no clue what an investment it would become. Sure, I love the sport and it's worth every penny, but I also love my wallet and what goes into it. I completely understand that a lot of other people feel the same way and therefore I've decided to do a review on one of the first pair of weightlifting shoes I ever owned (in its present offering), the VS Athletics Weightlifting shoe.
The Look of the VS Athletics Weightlifting Shoe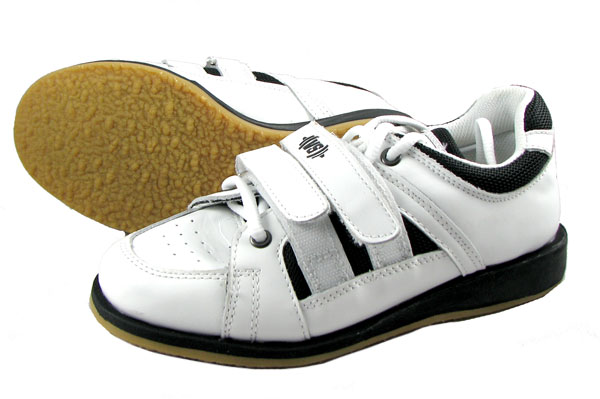 The shoe has a basic look and nothing fancy or flashy. It comes with two straps which is a welcome bonus for a shoe at this price range. The white and blank design is give the shoe a clean look and the hard rubber sole integrates well with the design. Overall good look for the money.
On another note, if you can't consider spending even $80-$95 for weightlifting shoes, then keep training in whatever it is your currently wearing. Put away a few dollars here and there, and once you've saved up to $80-$95 (about the going rate for these shoes), splurge on a pair of VS Athletics.
They are the perfect entry shoes into the Olympic Weightlifting shoe market. And honestly, for $80, you can't really beat that price.The question is, what do you get for this low-budget option?
Performance and Design of The VS athletics weightlifting shoe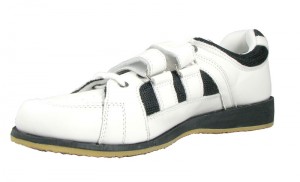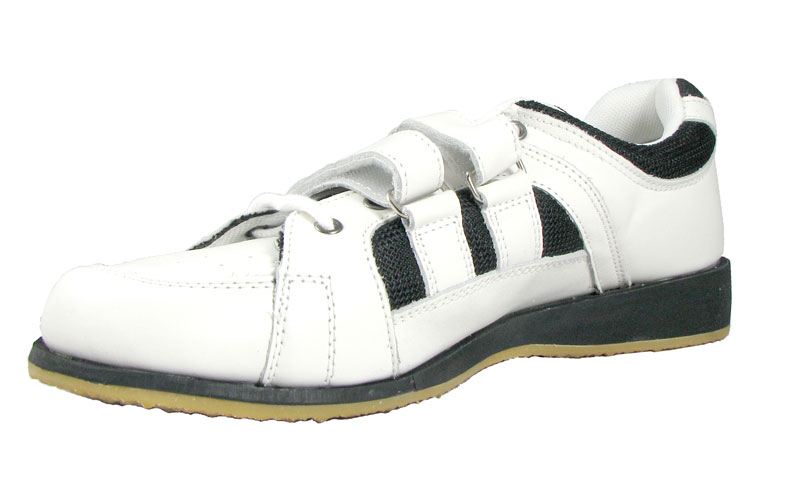 Well, nothing fancy, that's for sure. The VS is a good shoe. The sole of the shoe is a hard rubber material that allows me to feel solid and firm while lifting. Also, the two hooks on the front are quite comfortable and some people prefer having two hooks over only having one (as some other lines offer).
Now, the bad. In all truthfulness, they don't hold up that great. I'm not sure what people expect for a pair of entry-level shoes, but the VS Athletics that I had only lasted about a year. However, considering I was wearing them every single day, and now I try and rotate shoes, I should probably be pretty happy that they held up for as long as they did. But after a year I noticed that the sole was becoming a bit too flexible for my liking and the two hook cover system, was more of a one-and-a-half hook system (the Velcro wasn't as secure as it was in the beginning).
With all this said, I still wore my VS Athletics for a while. They showed a sign of strength and accomplishment that I had overcome after purchasing my first pair of shoes. And once everyone knew who I was, it didn't matter what pair of shoes I wore, so I truly wore them as a badge of honor.
The word on the Street…
" Unbelievably fine shoe for the price. Excellent foot positioning and support for heavy squats and dead lifts. Shoe runs a bit big. I wear 9 1/2 running shoes and the size 9 VS weight shoe fit best." –vsathletics.com 
"Probably the best if not only shoe on the market under $100.00. Grabs the floor well and has good stability. My only concern is this shoes durability. " – vsathletics.com
"Excellent fit and performance. I like everything except the material of the upper. Terrible material. The upper of the shoe is NOT leather, but rather more like the cheapest shoes at walmart. That part will not last. I'm very disappointed in that aspect. You may as well hold out longer and buy the adidas lifting shoes that cost $200." – vsathletics.com 
Final Assessment
Our Rating:

 out of 5
Pros:
Super inexpensive and great entry product.
Sturdy soles in the beginning. Very solid foundation.
Two Hook system is nice to find in a lower budget shoe.
Cons:
You get what you pay for. If you wear them like I did, they may not last as long as you'd like.
All the 'pros' quickly wear away, which is a shame they don't last a bit longer.
Overall:
I'd love to give this shoe a 4 or higher because I feel like a 3.5 is too low to express my gratitude towards the shoe. In all, I'll never forget the first time I fell in love with a pair of weightlifting shoes. I am extremely happy that I purchased the VS Athletics, as I may have never noticed the dramatic difference the right shoes can make once you wear them in the gym. But now I figure that if you are going to pay for a weightlifting shoe, go just a bit higher and get a $100 shoe that will last a bit longer.
However, as I say that, I realize that even reaching $80-$95 may be quite the accomplishment for some. So, if you are having a hard time convincing yourself to invest in a pair of weightlifting shoes but you need a good, inexpensive, place to start, the VS Athletics is a great beginner option to go with.
Where can you grab a pair?
In our next article we look at the Competition grade Eleiko Olympic Weight Set.Thanks for visiting www.olympicweightsetreview.com, if you liked this article please use our social buttons to give us the thumbs up.

Related Post