If you are looking for a high quality adjustable weight bench that isn't overpriced, the XMark Fitness Commercial Rated Adjustable Dumbbell Weight Bench is an ideal option. This is a no frills bench that has a 1500 lb. weight capacity, which is likely to be more than you'll ever need.
And with seven different positions to align the bench at, you can perform a variety of upper body exercises that other benches don't provide. Here is a further look into what we thought about the XMark Fitness Commercial Rated Adjustable Dumbbell Weight Bench.
XMark Design and Features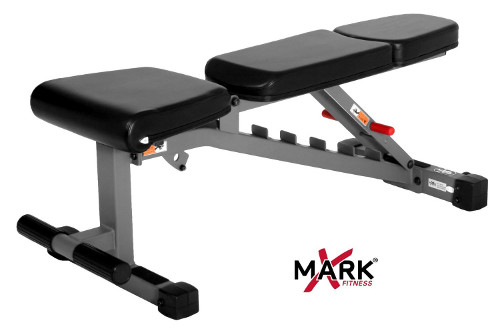 As we mentioned above, this bench isn't anything out of the ordinary. That said, it doesn't mean it's not a special bench in its own right. We recently did a review on the Legend 3 Way Utility Bench and noted how amazing the color options available were. You won't get that same novelty look with the XMark. This also means you won't be paying extra and instead you'll just get a bench that is meant for serious lifting.
Decline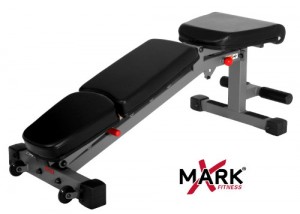 Another difference between the XMark and a few other benches that we've reviewed is the ability to get into a truly deep decline position for extra exercises.
As much as we loved the colors of the Legend bench, we couldn't get over the fact that there were no decline positions. You certainly wont have this issue with the XMark and you'll be able to do everything you need to on one machine.
Padding
The material of the bench padding is a 3" Duraguard vinyl, which has proven to be sturdy and last for quite some time. We will mention that along the seat of the bench you can see where the padding comes together and is sewn into place. Although the Duraguard vinyl seems to be lasting, we enjoyed the way that some of the other benches we've looked at are a flat look and have no variance where the pad meets the bench. This isn't a huge flaw when you consider the benefits this bench has, but it's noticeable when we compare it to other models.
Stability
The frame of the bench looks great and feels very comfortable with little to no instability. There are rubber feet along the outside of the bench, making it a solid fit when put on the ground in your gym. There is also a rubberized area for you to tuck your feet when doing certain exercises, which also doubles as the place you can grab when you want to roll the bench around your gym.
Size
We will mention that the bench itself doesn't appear to be as long as some other benches, which will probably only be an issue for taller athletes. Chances are that the bench is plenty long enough in most situations, but it's something to consider.
Pros
Seven adjustment options that make it possible to perform a plethora of exercise options.
Solid padding and cushioning on the bench.
Stable and firm frame.
Great price for what it does.
Cons
Where the padding meets the frame on the seat isn't as nice as other benches.
Seems to be a bit short in terms of length compared to other benches.
Rating  out of 5 stars.
Where Can You Find the Xmark Adjustable Weight Bench?
Conclusion on the Xmark
Overall there are no real glaring concerns when it comes to this bench. The few issues that we mentioned in this article are simply in comparison to other models. However when you compare the cost of the XMark to other models, the lower price certainly makes up for any discrepancies.
If you are looking for a sturdy bench for an in-home gym or even something for a smaller workout facility, this is a great option. The XMark Fitness Commercial Bench is versatile, reliable, and looks great. You likely don't need much more than that.
In our next post we review the Body-Solid Powerline Flat/Incline/Decline Folding Bench. Thanks for visiting www.olympicweightsetreview.com, if you liked this article please use our social buttons to give us the thumbs up.

Related Post