Choosing a new set of weights is a potentially expensive proposition, and so you will want to spend some time doing some shopping around before you buy. If you have been looking for a set of high quality coated weights, then you may want to consider the XMark Fitness Premium Rubber Coated Olympic Weight Set. This has all of the features of any high quality Olympic set, but it also has the added advantage of being coated with premium rubber to protect your weights and your flooring.
What Is the XMark Olympic Weight Set (400 Pounds)?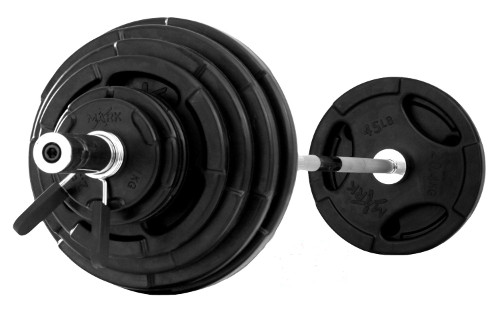 This is a full Olympic set which means that it has a seven foot bar that weighs 45 pounds (for men) and has a capacity of up to 1,500 pounds. It comes with two spring collars as well so you will be ready to go right out of the box. The set includes 355 pounds of premium robber coated Olympic plates that would look great in any home gym or commercial gym setting.
What Features Does This Have?
This set comes with the XM-3808 chrome 7' Olympic bar with a 1,500 overall weight capacity as well as two spring collars to keep your plates in place. The plates includes:
4 x 45 pound plates
2 x 35 pound plates
2 x 25 pound plates
2 x 10 pound plates
6 x 5 pound plates
2 x  2.5 pound plates
which makes this weight variation a perfect combination for just about every kind of level.
What makes this set so unique is that it is coated in a high quality rubber that makes the plates much easier to grip and move and they are obviously better for any surface that they come into contact with. They will not nick, cut, or rust like other plates often can.
What's the word on the Street…
The reviews for this set are very good, and are written by primarily those guys who were looking for a high quality set that also had the additional rubber coating which is ideal for home gym use.
"This is an amazing weight set. The plates a rubber coated and they are designed to latch together. The bar is great, too." – David, Amazon.com
"I am very happy with this set. The plates are much quieter in my home gym and I love the way that the whole thing fits together." – John, Amazon.com
This is a slightly pricier set of weights, but most people will tell you that the added expensive is worth it in order to get rubber coated weights. These weights will not only last longer than other ones, but you won't have to be nearly as careful with them as you would with uncoated weights.
"I am really glad that I ended up buying this that. It is a little on the expensive side, but it has been definitely worth it for me." – Frank, Amazon.com
Final Assessment
Our Rating:

 out of 5 stars.
Pros:
400lb set: Above average weight configuration
Great price very affordable: Best price for this much weight
Easy to grip because of the tri-grip design
Interlocking plates (Very nice feature)
Cons:
Where Should You Buy This Product?
Most people can't imagine paying more than $1,000 for a set of weights, but that is exactly what you will end up paying for this Olympic weight that if you buy it locally. In fact, the list price is $1089, which is pretty high by anyone's standards. But, when you go online you will see that you can purchase this for 22 percent off of that price, bringing it down below $850. In some cases, you can even get free shipping on it, too – and that is a great deal.
Is This The Right Set Of Weights For You?
Not everyone likes coated weights, but if you do and you are concerned about your flooring, your equipment, or you just like the convenience of how much easier they are to move around, then this Olympic weight set is ideal for you. It is certainly not the most expensive set on the market, but it seems to have all of the features you could ever want.
In our next post we review the Pendlay Do-win weightlifting shoe. Thanks for visiting www.olympicweightsetreview.com, if you liked this article please use our social buttons to give us the thumbs up.

Related Post