If you have been in the market for an Olympic set of weights, then finding a set that is properly priced and high quality is important. York has been in the barbell business for a very long time, so you know that you are getting a very high quality set when you buy their 2" Olympic 300 lbs. set for your own home gym. Everything about this set says that it is a classic model and it will be the envy of the old school crowd.
What Is the York Olympic 300 lbs. Set – York Fitness?
This is a true Olympic set with a 45 pound bar and spring collars. When you shop around for an Olympic weight set, it is imperative that you buy one with a 45 pound bar, or you will be gravely disappointed the next time you hit a gym and find that you aren't lifting nearly what you thought you were. This entire set includes everything that you need, including all of the weights of course, the bar, and the spring collars.
What Features Does the York Have?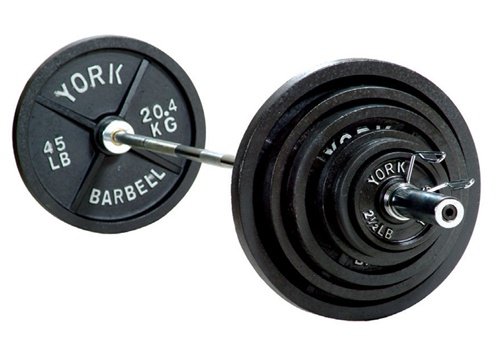 When you order this set you will get all plates that are made out of cast iron, which includes:
2 x 45 pound plates
2 x 35 pound plates
2 x 25 pound plates
2x 10 pound plates
4 x 5 pound plates
2 x 2.5 pound plates
This would be considered to be the standard configuration for any Olympic 300 lbs. set, no matter who manufactures it. The set has both lb and kg weight labels which is always good to see on a weight set. Another benefit of the set is that the bar has Knurl marks (not the most comfortable on the market but at least it has it).
This bar is 7 feet, which is also standard for an Olympic set and will enable you to get a quality lift no matter what kind of workout you are doing.
What's the word on the Street…
When you read the reviews for this set, you will see that it is highly recommended by people who wanted an affordable but truly Olympic size weight set for their home gym. This is tough enough for any commercial gym of course, but more affordable for home use.
"I have used this set for years at my local gym and the overall quality is excellent. This is a real 45 lb. Olympic bar." – John, Amazon.com
"This is a very high quality barbell set and is the best value for the price. It is perfect and took my workouts to a new level." – Gino, Amazon.com
The fact that everything is truly regulation size in this set is one of the things that really makes it ideal for someone who is serious about lifting. From the length and weight of the bar to the actual weight of each individual weight, you are getting a high quality product.
"This is 300 lbs. with a regulation barbell at an awesome price. I absolutely love this set!" – Brian, Amazon.com
Where Should You Purchase This Set?
Finding this set locally can be pretty difficult, because not a lot of sporting goods stores will carry this kind of heavy and pricey set of weight. But, when you go online you can actually get these at a very affordable price and even free shipping in some cases, which is fairly remarkable considering how heavy they are. At a price of about $359, these are very fairly priced in comparison to other brands.
Is the York 300 lbs Olympic weight Set  – Right for You?
Whether you are new to lifting weights or you are just looking to upgrade your own set of Olympic weights, this is a good quality set that is made by a reputable manufacturer. If you want a set that is made to last years and years and is made from the highest quality materials, then this is it. If price is a major factor in your buying decision then grab this set and start working out.
Assessment
Our Rating:

 out of 5 stars.
Pros:
300lb set, great starter set
Great price (Below $400), very affordable for a full weightset
Easy to Grip plates
The Steel plate are very durable
Cons:
In our next article we look at the
XMark Fitness Olympic Weight Set (400 Pounds)
. Thanks for visiting
www.olympicweightsetreview.com
, if you liked this article please use our social buttons to give us the thumbs up.
Related Post